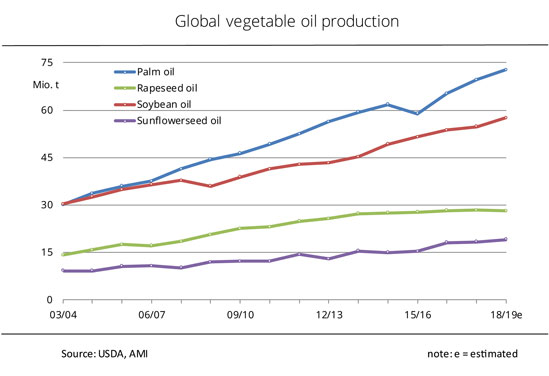 The US ministry of agriculture USDA has projected a record high vegetable oil production of 204 million tonnes worldwide for 2018/19. Supply of palm and soybean oil could see a particularly sharp increase. According to the USDA forecast, 2018/19 world vegetable oil production will probably rise more than 3 per cent from the previous year to a record level of just less than 204 million tonnes.
Palm, soybean, rapeseed and sunflower oil account for around 87 per cent of that figure. Soybean oil is expected to see the biggest growth at 5 per cent. The development benefits from ample availability of feedstock from the 2018 bumper harvests of soybeans in Brazil and the US and continued buoyant international demand for processed soybean products. Favourable growing conditions in Southeast Asia and surprisingly high yields on palm oil plantations are seen to lead to a 4.5 per cent rise from 2017/18 to 72.8 million tonnes.
Production of sunflower oil is expected to rise 4 per cent, because Ukrainian sunflower production is up around 6 per cent from a year earlier. By contrast, 2018/19 output of rapeseed oil of 28.1 million tonnes is projected 1 per cent lower than in the 2017/18 marketing year. According to Agrarmarkt Informations-Gesellschaft mbH (AMI), the reason is drought-induced disappointing rapeseed harvests in the EU-28 and Australia in 2018.
The Union zur Förderung von Oel- und Proteinpflanzen (UFOP) has forecast that in the wake of this trend in supply, pressure on prices will persist in the international vegetable oil markets. Prices of vegetable oils have long since decoupled from crude oil prices, forcing vegetable oil producing countries to adopt more active biofuel policies. Countries like Indonesia, Brazil and Argentina have tried to handle the price pressure by raising biofuel mandates, arguing that as palm oil prices are on a declining trend while crude oil prices are rising at the same time, biofuel mandates are becoming economically more attractive.
Source
UFOP, Chart of the week (41), 2018-10.
Supplier
Union zur Förderung von Oel- und Proteinpflanzen e.V. (UFOP)
US Department of Agriculture (USDA)

Share