In its current global rapeseed supply outlook for 2019/20, the International Grain Council (IGC) anticipates a considerable decline in world production. At the same time, global stocks are expected to rise to a record high.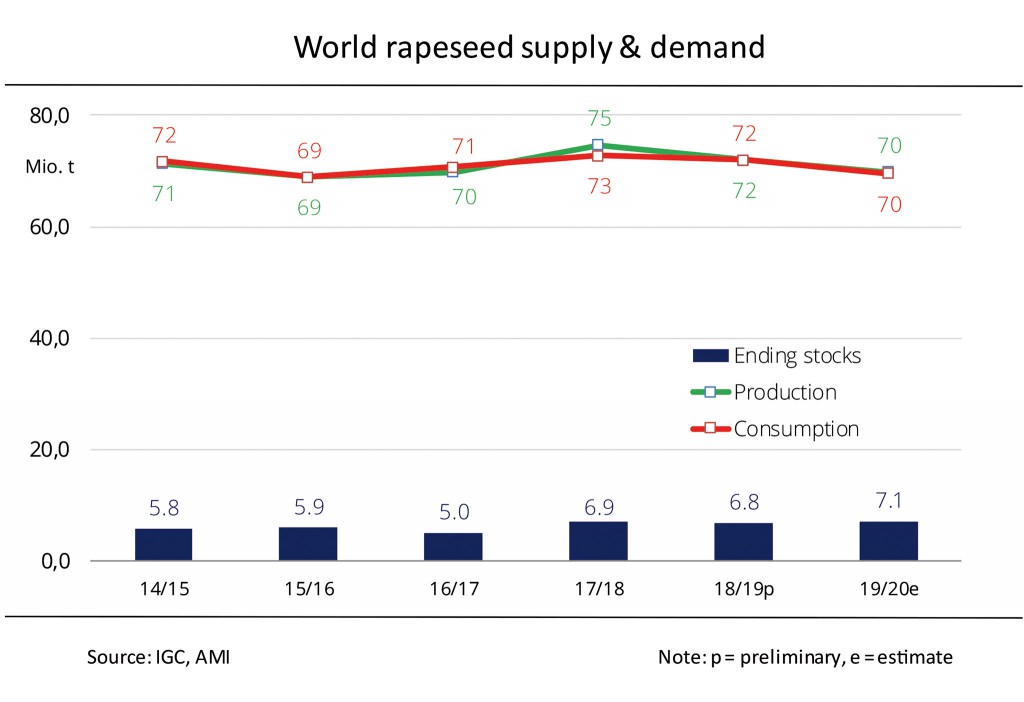 In its recent forecast for the 2019/20 marketing year, the International Grain Council (IGC) projects global rapeseed production at 69.8 million tonnes. In other words, the harvest is set to drop 3 per cent from the previous year's level. This is a result of inadequate rainfall and distribution of rain over the growth period, as it was the previous year. According to Agrarmarkt Informations-Gesellschaft mbH (AMI), the EU harvest will amount to approximately 17.9 million tonnes of rapeseed. This would be down just less than 2 million tonnes from the previous year. The IGC expects the biggest decrease to occur in France, which continues to be the number one rapeseed producer in the EU, producing 4 million tonnes, Romania and Germany. According to the harvest estimate of the Deutscher Raiffeisenverband (DRV), the German harvest will decrease 16 per cent year-on-year to 3.1 million tonnes.
Canada is also projected to see a significantly smaller harvest of 18.9 million tonnes. On the other hand, the IGC expects the Ukrainian harvest to reach 3.7 million tonnes. This is up approximately 1 million tonnes from the previous year and 1.7 million tonnes more than the five-year average. The rise is primarily due to the expansion of rapeseed area by one third compared to the previous year. Rapeseed cultivation has become very attractive in Ukraine, because rapeseed is the country's most expensive, and therefore a very profitable, oilseed crop. Moreover, demand from exporters and processors is high.
Larger harvests in Ukraine and Australia cannot offset the decline in the EU. If demand from German or European oil mills for feedstock remains unchanged, imports will have to increase 30 per cent compared to 2018. Because of this, supplies, especially from Ukraine, are set to force their way into the EU market in the coming marketing year. However, whether they actually will, depends on whether European rapeseed producers will be as reluctant to sell their rapeseed as they were after the 2018 harvest. At the time, oil mills had been forced to find new suppliers.
Although the IGC forecasts a significant drop in harvest, the organisation also expects an increase in global rapeseed stocks. At 7.1 million tonnes, stocks are even projected to reach the highest level in ten years, first and foremost because of rising stocks in Canada. The latter are likely due to the continuing delivery problems as regards shipments to China.
Source
Union zur Förderung von Oel- und Proteinpflanzen e.V. (UFOP), 2019-07-01.
Supplier
Agrarmarkt Informations-GmbH (AMI)
International Grain Council
Union zur Förderung von Oel- und Proteinpflanzen e.V. (UFOP)

Share