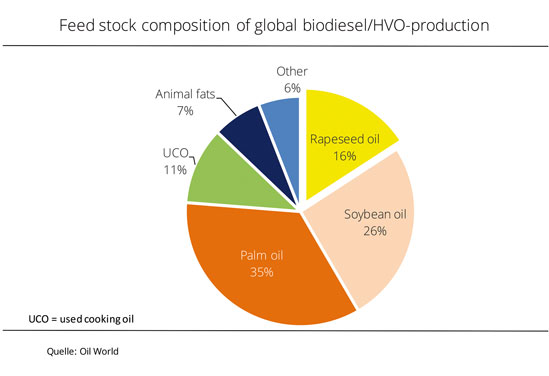 More and more biodiesel is being produced. As in the previous year, palm oil accounts for the largest share of feed stock, followed by soy and rapeseed oil.
Production of biodiesel, and, consequently, the use of feedstocks has increased all over the world. The percentages of feedstocks used remained virtually unchanged from 2017: 35 per cent palm oil, 26 per cent soybean, 16 per cent rapeseed oil, 11 per cent used cooking fats, 7 per cent animal fats and 6 per cent other fats. Palm, soybean and rapeseed oil remained the most important feedstock sources. This will likely change in 2019, because prices for individual components vary quite considerably over 2018.
Rapeseed oil is at a high level and cost on average EUR 96/t more in September 2019 than in the previous year. As a result, the gap to soybean, sunflower and palm oil has widened significantly. Biodiesel production from soybean and palm oil is expected to increase in North and South America as well as Southeast Asia.
In the EU 28, it remains to be seen whether the share of biodiesel from waste oils and fats will continue to increase at the expense of rapeseed oil.
Feedstock percentages could also change in the wake of the smaller rapeseed harvest caused by drought, the transition to soybean processing and the more than EUR 300 per tonne price gap at times between palm oil and rapeseed oil.
Source
UFOP Chart of the week (50 2019), press release, 2019-12.
Supplier
Union zur Förderung von Oel- und Proteinpflanzen e.V. (UFOP)

Share