University of Sheffield researchers have won an Engineering Impact award for developing game-changing carbon capture technology
Professor Peter Styring and Dr George Dowson worked with Rotherham-based manufacturer AESSEAL to develop FluRefin – a carbon capture system that is much cheaper and has an extremely small footprint compared to other carbon capture technologies
FluRefin is being used by a number of UK steel companies and can help both large and small industries reduce their carbon emissions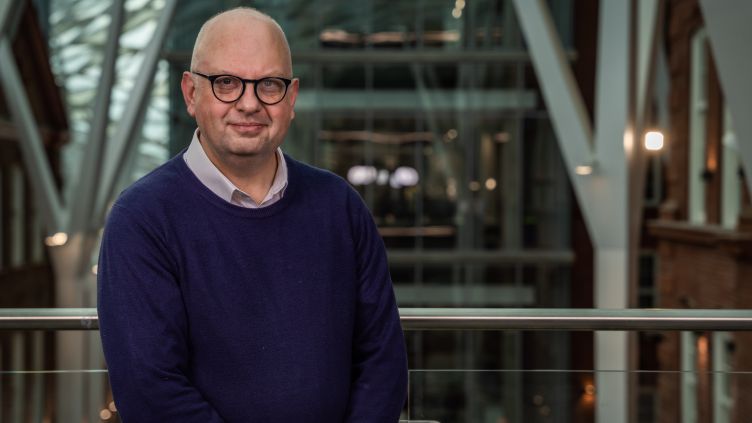 Groundbreaking carbon capture technology developed by University of Sheffield researchers in collaboration with industry partner AESSEAL has been recognised with a prestigious award.
Professor Peter Styring and Dr George Dowson from the University's Department of Chemical and Biological Engineering were awarded the 2023 Engineering and Manufacturing Award for Engineering Impact at a ceremony held recently in Central London.
The awards shine a spotlight on the incredible contribution made by manufacturers large and small, as well as highlight the role played by engineers in addressing some of society's most pressing challenges.
The technology developed at Sheffield was featured in one of the strongest categories in the awards, with seven finalists including the CrossRail project and British Army engineers. Hosted by British television and radio presenter Angellica Bell, the finalists were selected by an eminent panel of engineers who had judged the entries over the last few months, to celebrate world-leading projects across all disciplines of engineering.
The FluRefin technology was developed through the UKRI SUSTAIN Manufacturing Hub with support from Rotherham-based AESSEAL and its managing director, Chris Rea. Chris also won the Net Zero Award at the EMAs, citing this collaboration with the University of Sheffield in the award literature.
FlueRefin is a pressure swing adsorption carbon dioxide capture technology that has lower capital and operational costs than current amine-based technologies. It can also be portable and occupies around only 10 per cent of an amine plant.
Once the CO2 is captured using FluRefin, it is dry and impurity-free so it doesn't require additional clean up. FluRefin is currently being deployed at a number of emission sites at UK steel companies and a new larger scale unit is close to deployment at other foundation industries including paper mills.
This is a step-change technology that the researchers behind its development are aiming to make the industry standard in CO2 capture industries. It will soon be commercialised through a University of Sheffield spinout company.
The technology is also being used in the groundbreaking £5.4 million Flue2CHEM project through an exclusive licence option to Carbon Capture Utilisation Limited.
This project aims to enable the use of waste gases from foundation industries such as the production of metals, glass, paper and chemicals to generate an alternative source of carbon for UK consumer product production – and includes Professor Styring as Principal Investigator at Sheffield.
Professor Styring, Professor of Chemical Engineering & Chemistry at the University of Sheffield, said: "When we were announced as Finalists at the EMAs we were amazed, especially when it was 'Engineering Impact' rather than the R&D category. When we saw the quality and standing of the other Finalists, we were content to have made it that far.

"When the award was announced at the event it is fair to say we were in shock, and I think we still are. This is a fantastic achievement not just for our team at the University of Sheffield but for all those who have helped us on our commercial journey, especially Chris Rea, Stephen Shaw and Andrew Colverson at AESSEAL in Rotherham. Without their help we would still be in the research lab wondering how we're going to take this forward.

"This is the second award we have won in 2023 and there are two others in the pipeline which will be announced in November. This year has shown us that the technology we have believed in for the last 10 years is now being recognised by the global engineering and climate mitigation industries. It's an amazing feeling to realise that our research is making impact and a difference, and a feeling we want to perpetuate as the product reaches the international commercial market."
At the end of the awards evening, FluRefin took the only award by any university, showing that collaboration by academia and industry is key to engineering success.
Source
University of Sheffield, press release, 2023-09-28.
Supplier
AESSEAL
British Army
SUSTAIN Steel - EPSRC Future Steel Manufacturing
UK Research and Innovation (UKRI)
University of Sheffield

Share
Renewable Carbon News – Daily Newsletter
Subscribe to our daily email newsletter – the world's leading newsletter on renewable materials and chemicals