Neben Biomasse und Recycling, stellt CCU eine wesentliche Säule der Versorgung mit erneuerbarem Kohlenstoff dar. Hierdurch ist sie eine Schlüsseltechnologie des Übergangs zu einer nachhaltigen Chemie- und Kraftstoffproduktion und zur Substitution fossiler Rohstoffquellen. Dies ist besonders für die Vermeidung zusätzlicher CO2-Emissionen und klimaschädlicher Effekte sowie für den Übergang zu einer klimafreundlichen Produktion und klimafreundlichen Konsumkonzepten von entscheidender Bedeutung. Um die Vorteile der vielfältigen CCU-Technologien in vollem Umfang nutzen zu können, sind die Verwendung von Wasserstoff und erneuerbaren Energien zur Herstellung CO2-basierter Transport- und Flugkraftstoffe, Massen- und Feinchemikalien und Materialien unerlässlich.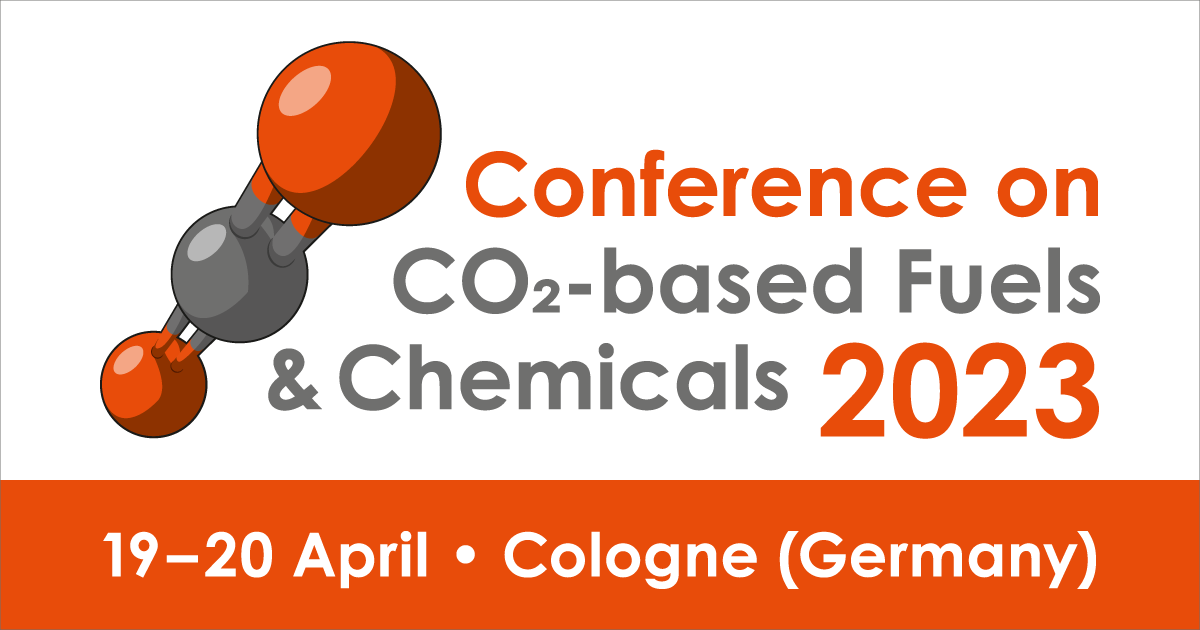 Die Conference on CO2-based Fuels and Chemicals führt neue und führende Akteure innovativer und optimierter Anwendungen zusammen und stellt ihre Technologien vor. Diese nutzen CO2 als Rohstoff und bieten eine umfassende, vielschichtige Perspektive auf CCU: von Innovation und Strategien über die Entwicklung und Umsetzung innovativer CCU-Technologien, Regulierungen und politischen Rahmenbedingungen bis hin zu Carbon Capture, Power-to-Fuels sowie CO₂-to-Chemicals, Polymeren, Materialien und Mineralisierung. Wir freuen uns, die ersten 21 Sprecher aus 11 Ländern in unserem vorläufigen Programm bestätigen zu können.
Experten aus Industrie und Forschung werden vielfältige Möglichkeiten der Nutzung von CO2 als industriellen Rohstoff diskutieren. Die vorgestellten Technologien und Projekte bieten auf diesem Wege wichtige Instrumente zur Vermeidung schädlicher Emissionen sowie zum Aufbau einer erneuerbaren Kreislaufwirtschaft und gelten daher als Schlüsselfaktoren der erfolgreichen Bekämpfung des Klimawandels. Die präsentierten Inhalte decken hierbei die gesamte Liefer- und Wertschöpfungskette für Carbon Capture und Carbon Utilisation (Power-to-X) ab, von der Abscheidung bis zur Nutzung in Kraftstoffen und anderen Produkten.
Unternehmen wie ArcelorMittal, Promethean Particles, Carbon Recycling International, LanzaTech, Econic Technologies, Borealis, Phytonix und Sulzer Chemtech geben Einblicke in ihre aktuellen Fortschritte bei der Carbon Capture and Utilisation.
Darüber hinaus stellen Forschungsinstitute wie das deutsche DLR, das niederländische TNO, das belgische VITO und das französische IFPEN aktuelle Forschungsarbeiten zu Carbon Capture, Elektrochemie und E-Fuel-Produktion vor.
Das nova-Institut, CO₂ Value Europe sowie die University of Michigan werden Ihnen einen umfassenden Status quo und eine Zukunftsperspektive zur CCU-Strategie und -Politik präsentieren.
Seien Sie dabei, werfen Sie einen Blick in die nahe Zukunft, tauschen Sie sich mit führenden Pionieren aus und verpassen Sie auch nicht die Chance, sich für den Innovationspreis "Best CO2 Utilisation 2023″ zu bewerben.
Das aktuelle Konferenz-Programm finden Sie unter https://CO₂-chemistry.eu/program.
Hier finden Sie das vorläufige Programm der "Conference on CO₂-based Fuels and Chemicals 2023"
Innovation, Strategy and Policy
Michael Carus and Christopher vom Berg, nova-Institute (DE) – CCU is Much More Than a Carbon Removal Technology
Anastasios Perimenis, CO₂ Value Europe (BE) – A European Roadmap for Carbon Capture and Utilisation (CCU)
Volker Sick, University of Michigan (US) – Track 2 CO₂-based Products
Wim Van der Stricht, ArcelorMittal (BE) – The ArcelorMittal Strategy Towards Carbon Neutral Steel Production
Nicolas Hark, nova-Institute (DE) – What Does EU Policy Have in Store for Carbon Capture?
Carbon Capture
Enric Prats-Salvado, Institut für Future Fuels, Deutsches Zentrum für Luft- und Raumfahrt (DLR) (DE) – Solar-Powered Direct Air Capture: Techno-Economic and Environmental Assessment
Selina Ambrose, Promethean Particles (UK) – Metal Organic Frameworks (MOFs): Enabling Energy-Efficient Carbon Capture for the Growing CO₂ Utilisation Market
Power-to-X
Elena Perez Gallent, TNO (NL) – Process Intensification of CCU Technologies: Integration of CO₂ Capture with Electrochemical CO₂ Conversion Towards Added Value Products
Emeric Sarron, Carbon Recycling International (IS) – Commercial Scale Production of Methanol From Captured CO₂ and Hydrogen
Babette Pettersen, LanzaTech (US) – Enabling a Circular Economy: Carbon-Negative Fuel and Chemical Production by Eliminating Waste
Power-to-Fuels
Catherine Laroche, IFPEN (FR) – From CO₂ Capture to E-Fuels Production, Integration is Key
Maartje Feenstra, Institute for Sustainable Futures, University of Technology Sydney (AU) – Sustainable Aviation Fuels in the One Earth Climate Model's 1.5° C Scenario: Where Does the (sustainable) Carbon Come From?
CO₂-to-Polymers and Materials
Pauline Ruiz, nova-Institute (DE) – CO₂ Utilisation for Chemicals and Materials – An Overview on Technologies, Key Players, Markets and Trends
Maurice Power, Econic Technologies (UK) – Application of CO₂ Containing Polyols
Jan Thiel, Institut für Textiltechnik der RWTH Aachen University (DE) – Application of CO₂-containing Thermoplastic Polyurethane Yarns in Elastic Textiles
Floris Buijzen, Borealis (AT) – Turning Carbon Emissions Into Running Shoes
Heleen de Wever and Deepak Pant, Flemish Institute for Technological Research (VITO) – Electrochemical Production of C1 Chemicals and their Bioconversion to Polymers
CO₂-to-Chemicals and Minerals
Christine Rasche, Fraunhofer IGB (DE) – Combining Chemistry and Biotechnology for the Production of CO₂-based Chemicals – Chances and Risks
Bruce Dannenberg, Phytonix Corporation and Cyanomega Corporation (US) – Carbon Dioxide Utilization Via Photosynthetic Conversion to Higher Alcohols and Fatty Acids to Address the Climate Crises and Create a Circular Carbon Economy: From Laboratory to Commercialization
Cecilia Mondelli, Sulzer Chemtech (CH) – CO₂ Capture Meets Mineralization in the Liquid Phase for a Sustainable Construction Industry
Mohammad Rezaei, GIG Karasek (AU) – Electrochemical CO₂ Transformation: Efforts and Perspectives of an Industrial Plant Constructor
Innovationspreis "Best CO₂ Utilisation 2023"
Der Innovationspreis "Best CO₂ Utilisation 2023" wird auf der "Conference on CO₂-based Fuels and Chemicals 2023" vom 19. bis 20. April 2023 in Köln verliehen – ein etablierter Treffpunkt für Unternehmen, die im Bereich CO₂-basierter Technologien, Kraftstoffe und Chemikalien arbeiten. Als Hybrid-Veranstaltung kombiniert die Konferenz eine "Live"-Veranstaltung vor Ort mit allen Annehmlichkeiten der "virtuellen" Online-Komponenten (www.CO₂-chemistry.eu).
Nutzen Sie die Gelegenheit und bewerben Sie sich jetzt: www.CO₂-chemistry.eu/award-application.
Sponsoring
Das nova-Institut dankt YNCORIS herzlich für das Sponsoring des Innovationspreises "Best CO₂ Utilisation 2023" sowie CO₂ Value Europe für die Mitorganisation.
Wenn auch Sie die Konferenz unterstützen möchten, besuchen Sie bitte https://co2-chemistry.eu/sponsoring/.
Über nova-Institut
nova-Institut ist ein privates und unabhängiges Forschungsinstitut, das 1994 gegründet wurde; nova bietet Forschung und Beratung mit Schwerpunkt auf dem Transformationsprozess der chemischen und stofflichen Industrie zu erneuerbarem Kohlenstoff: Was sind zukünftige Herausforderungen, Umweltvorteile und erfolgreiche Strategien zur Substitution von fossilem Kohlenstoff durch Biomasse, direkte CO2-Nutzung und Recycling? Wir bieten Ihnen unser einmaliges Verständnis an, um den Übergang Ihres Unternehmens in eine klimaneutrale Zukunft zu unterstützen. Das nova-Institut hat über 40 Mitarbeiter.
Abonnieren Sie unsere Mitteilungen zu Ihren Schwerpunkten unter
www.bio-based.eu/email
Source
nova-Institut, Pressemitteilung, 2022-12-15.
Supplier
ArcelorMittal
Borealis Polyolefine AG
Carbon Recycling International (CRI)
CO2Value Europe
Cyanomega Corporation
Deutsches Zentrum für Luft- und Raumfahrt e. V. (DLR)
Econic Technologies Ltd.
Fraunhofer-Institut für Grenzflächen- und Bioverfahrenstechnik (IGB)
GIG Karasek GmbH
IFP Energies nouvelles (IFPEN)
Institut für Textiltechnik (ITA) - RWTH Aachen
LanzaTech Ltd.
nova-Institut GmbH
Phytonix
Promethean Particles
Sulzer Ltd.
TNO
University of Michigan
University of Technology (University of Technology Sydney - UTS)
YNCORIS

Share
Renewable Carbon News – Daily Newsletter
Subscribe to our daily email newsletter – the world's leading newsletter on renewable materials and chemicals