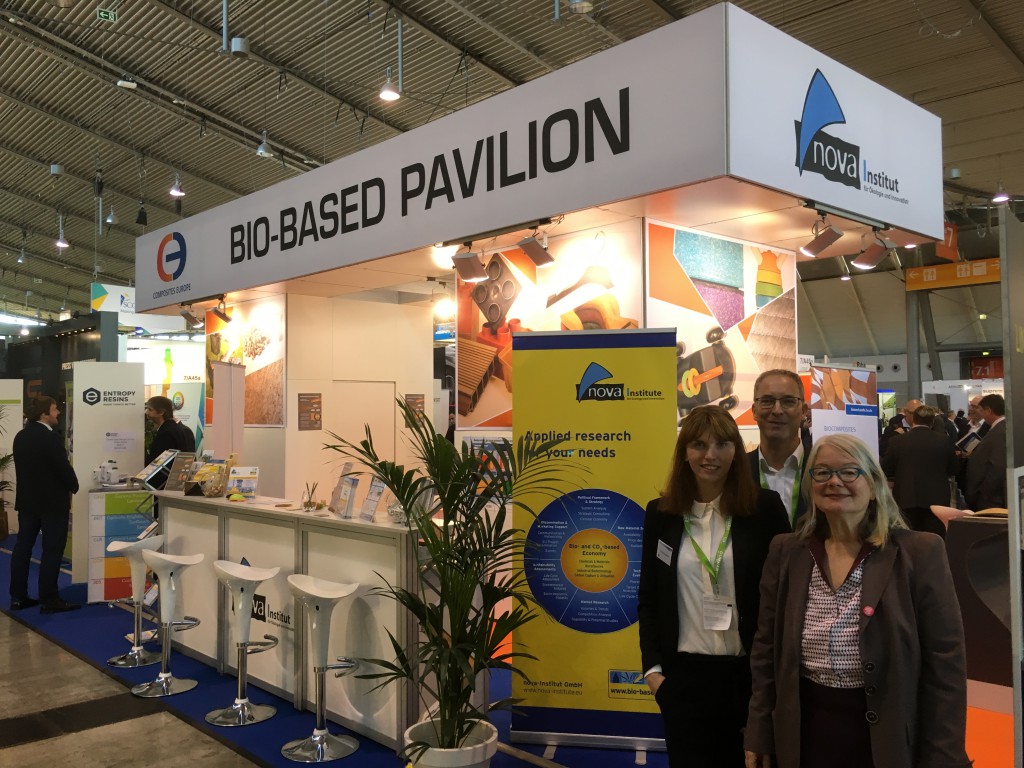 – Trade fair focuses on big advances in manufacturing processes
– Lightweight construction a key technology for the industrial location
– From 2019 co-located with "Foam Expo Europe" in Stuttgart
Glass and carbon fibre reinforced plastics are in demand when lightweight and forward-looking solutions are called for. This trend towards lightweight construction is currently one of the strongest drivers for the composites industry. Just as strong are the impulses generated by the composites sector itself: the major technological advances in the manufacturing and processing chain enables this sector of industry to increasingly automate and shorten manufacturing processes.
Both developments dominated this year's edition of COMPOSITES EUROPE, held for the 13th time with 365 exhibitors from 30 nations. Event organiser Reed Exhibitions registered 8,148 visitors from 71 countries (2017: 63). The COMPOSITES EUROPE trade fair held in Stuttgart in an even year for the first time, followed on from the previous year's results (8,342). With these figures it underlined its importance as an international industry get-together. This is also reflected by the slightly higher share of international trade visitors (46% over last year's 42%). Also striking is the list of companies that came to Stuttgart: nearly the entire automotive industry – from Audi, BMW, Bugatti, Daimler through Ford, Honda and Mitsubishi to Opel, Porsche, Toyota, and Volkswagen – was represented here.
It was a similar picture for the aerospace industry. One in four visitors represented an enterprise active on this market as an OEM or upstream supplier. "This is a proof of quality underlining that the decision to hold the event annually in Stuttgart was driven by the market," says Hans-Joachim Erbel, CEO Reed Exhibitions Deutschland GmbH as the organiser of COMPOSITES EUROPE.
Growth of the European composites industry goes on
At present, the market for glass fibre reinforced plastics (GRP) is growing by 2% against the previous year to a volume of 1.141 million tonnes. This is the result found by the annual market report of the industry association AVK – Industrievereinigung Verstärkte Kunststoffe, which was presented at the beginning of COMPOSITES EUROPE in Stuttgart. This means the composites industry is following overall economic developments.
"The outlook for the composites industry as a whole is good, the potential is enormous," says Dr. Elmar Witten, General Manager of AVK. The automotive sector, which is the most important market for selling fibre reinforced plastics in Europe today, is currently undergoing a fundamental change. In addition to higher requirements made on exhaust gas and emission values new drive concepts such as e-mobility are contributing to a restructuring of the sector and opening up new perspectives.
Big response to Lightweight Technologies Forum (LTF)
The lightweight construction theme plays a central role here, as Werner Lohscheider from the German Ministry of Economics and Energy stressed on the occasion of the opening of the "Lightweight Technologies Forum": "To us lightweight construction is a key technology we use to modernise and strengthen Germany as an industrial location – in a sustainable manner. After all, this is a broad and strong basis for adding value and creating jobs, also for today's and tomorrow's markets."
Fibre reinforced composites bring their strengths to bear especially in multi-material lightweight construction. After all, the requirements of modern lightweight construction can be met less and less with a single material while hybrid lightweight construction is becoming increasingly important instead. An approach that underlies the Lightweight Technologies Forum: "With this cross-material forum, we have created a format that brings together the composites industry and the application industries for integrative and hybrid lightweight construction," says Olaf Freier, Event Director of COMPOSITES EUROPE. The forum celebrated its premiere in 2016 and has developed very successfully since then. A total of 26 companies presented materials, tools and exhibits this year – from fillers, bonding agents and presses for laminating different materials to hybrid semi-finished products. One highlight was the feasibility study of a car seat that will weigh as little as eight kilograms.
"Process Live" moves manufacturing chain centre-stage
The new "Process live" exhibition area showed that the industry is becoming increasingly successful in automating and shortening production processes with technological advances in the manufacturing and processing chain. Here, companies from mechanical and plant engineering industries presented coordinated processing and manufacturing processes. An example of this was the live demonstration by cutting specialist Gunnar (Switzerland), composite automation expert Airborne (Netherlands) and gripping system supplier Schmalz (Germany), who jointly presented the entire production and processing chain with reliable processes from the roll material to the finished layer structure of a fibre composite component in a combined production cell. The interlocking hardware components are completely interconnected on the software side. "Cooperation between processors is becoming ever closer. These cooperations within the process chain are accelerating the growth of the composites industry. We want to make this clear with our new 'Process live' format," says Olaf Freier, Event Director of COMPOSITES EUROPE.
In future COMPOSITES EUROPE will be jointly located with Foam Expo Europe
From 2019 Foam Expo Europe, the trade fair and conference for the supply chain for industrial foam production, and COMPOSITES EUROPE, the European Trade Fair and Forum for Composites, Technology and Applications, will take place concurrently in Stuttgart. This was announced by the two organisers – Smarter Shows and Reed Exhibitions.
Together, the two fairs combine the technologies and applications of composite materials with the entire foam production supply chain. The concurrent trade fair dates at the Stuttgart location offer synergies above all for the joint application industries such as automotive, aviation, the construction sector and the sports and leisure industry. Visitors will find a wide range of lightweight construction materials and processing technologies.
Starting in 2019, Foam Expo Europe will be held in parallel with COMPOSITES EUROPE for the first time. Foam Expo Europe, which celebrated its premiere this year, presents the entire foam supply chain and is the marketplace for manufacturers and buyers of industrial foams, foam products and services. The exhibition will focus on moulded, rigid and flexible foam solutions, including raw materials, chemicals, equipment and machinery.
Together, the two trade fairs will link the technologies and applications of composite materials with the entire foam production supply chain. After all, many materials from both worlds are based on polyurethane (PUR). The concurrent dates in Stuttgart offer great synergy potential, especially for joint application industries such as automotive, aviation, construction and the sports and leisure industries.
International Composites Congress (ICC) to sport new concept from 2019
From 2019, the International Composites Congress (ICC) will also feature a new concept. The ICC, which had traditionally been the opening event of COMPOSITES EUROPE, will in future be organised jointly by Reed Exhibitions and the Composites Germany trade association. As a result of this, there will be an integrative overall concept that will bring the trade fair and congress closer together.
The forthcoming COMPOSITES EUROPE in Stuttgart will be held from 10 to 12 September 2019.

Note: The visitor, exhibitor and exhibition area figures of COMPOSITES EUROPE are established and certified according to the uniform definitions of the FKM – Gesellschaft zur Freiwilligen Kontrolle von Messe- und Ausstellungszahlen.
Exhibitor Testimonials
"COMPOSITES EUROPE is the most important event for the composites industry in Germany, the largest market in Europe. So we are planning to intensify the cooperation between the trade fair and Composites Germany. In the future we will offer an even more dovetailed concept".
Dr. Elmar Witten, General Manager at AVK and Management Spokesman at Composites Germany
"At COMPOSITES EUROPE, we made many very interesting contacts. Especially in mechanical engineering, fibre composites and CFRP are attracting more and more interest, which was also reflected at the trade fair. We have noticed a further development with regard to the Asian market: we had many good contacts from the entire Asian region here. The market is becoming more and more international."
Ralph R. Hufschmied, Management at Hufschmied Zerspanungssysteme GmbH
"COMPOSITES EUROPE is of great importance to us. We use the trade fair to present our technologies, machinery and plant solutions and to hold discussions with customers as to which technologies will be favoured for specific components in the future and where the journey will take us".
Christian Wolfsberger, Business Development Lightweight Composites, ENGEL Austria GmbH
"We clearly feel that the topic of lightweight construction – especially in the field of electromobility – is gaining more and more momentum. One of the biggest challenges now is to professionalize industrialization processes to ensure consistent quality. The area of automation is also particularly important here. COMPOSITES EUROPE is a very important trade fair for us. Although it takes place in Swabia, it boasts international appeal, which is very important for us. Here we meet the industry leaders and have very good conversations with customers from Asia, America and the whole of Europe."
Matthias Feil, General Manager at Schmidt & Heinzmann
"The customer determines the market and also the industry. The challenge is to explain to customers what exactly lightweight construction means. Only under these conditions can the market change and a new era of lightweight construction be rung in to accelerate development, research and the process."
Claus Georg Bayreuther, AMC
"Lightweight construction plays a major role, especially in automotive, aviation and space travel technologies. But we also see many opportunities in the construction industry where weight can be saved. There is great potential in building stable and solid structures with little energy input. Industry 4.0 is also important in the fibre composite sector and is being driven forward continuously. On the other hand, the issue of recycling is still largely open and represents one of the major challenges for the industry."
Prof. Dr.-Ing. Markus Milwich, Head of the Fibre Composite and Braiding Technology Unit, German Institute for Textile and Fibre Research, Denkendorf
"We are working in press processes, so we believe highly in the industrialisation of the product. This means: less people, who are more skilled and a fully automatic line, which can provide good results with terms of quality. We are totally confident that industry 4.0 is the future. The knowledge of the worker is not only about how to manage the material but also to join with the machine. So it's a collaboration between man and machine."
Alessandro Di Meco, Lead Project Engineer at CARBOPRESS
"We see a lot of potential in the construction industry regarding lightweight solutions. The challenges for composites are definitely regulation and certification. If we have composite materials which are or will be certified you are well on the way to developing a good product, because with the regulation and certification the acceptance is bigger. The further development depends on whether the technologies will have a breakthrough in mass markets or not. Automotive is definitely a mass market. There are interesting developments like hybrid. If this is accepted and has clear advantages, then a switch can happen very quickly. For us it's always nice to have a place like the COMPOSITE EUROPE. You can meet basically everyone within walking distance. A lot of our partners are here to exchange ideas and set up new projects and developments."
Thomas Weiler, Researcher, Aachener Zentrum für integrativen Leichtbau
"Pollution is a big problem all over the world. This is why we have to use very light vehicles in the future. To be at COMPOSITES EUROPE is very important for us. It is a very technical show with many innovations and new devices. Everyone is here, talking about new technical parts, devices, components and materials. We also plan to attend next year."
Walter Giuliani, Sales Director at Belotti SPA
"The talks we had at Bio-Composites over the three trade fair days made it perfectly clear that demand for bio-based composites is rising strongly in Europe and the world over. The nova-Institut as host of the "Bio-Based Pavilion" received top marks from the exhibitors when asked about their satisfaction with the Pavilion concept. In their answers, COMPOSITES EUROPE was highly praised as a platform. Exhibitors are fully satisfied with the pavilion concept, the number of visitors and, above all, with the high quality of the discussions with potential customers of bio-based solutions. The companies clearly felt the growing interest in "bio-based solutions" for sustainability among OEMs and large industrial companies in the sector".
Guido Müller, Head of Communication, nova-Institut GmbH
"We seized the trade fair to present ourselves with SGL's new brand image. The second day of the fair in particular was marked by good discussions with representatives from almost all application industries."
Fabian Trippe, Director Sales EMEA, SGL TECHNOLOGIES GmbH
Source
Composites Europe, press release, 2018-11-08.
Supplier
Aachener Zentrum für integrativen Leichtbau AZL
AMC Innova Juice And Drinks S.L.
Belotti SPA
CARBOPRESS
COMPOSITES EUROPE
DITF – Deutsche Institute für Textil- und Faserforschung Denkendorf
Engel Austria GmbH
nova-Institut GmbH
SGL Group

Share
Renewable Carbon News – Daily Newsletter
Subscribe to our daily email newsletter – the world's leading newsletter on renewable materials and chemicals