In Paris, at the summer Interfilière (7/8/9 July), the world's leading fabric trade fair for intimatewear, beachwear and loungewear, RadiciGroup and Ritex SpA are launching a product that is both high-quality and eco-friendly: a lace fabric from Ritex SpA – an Italian company and European leader in lingerie embroidery, which has among its customers prestigious names such as Chantelle and La Perla, just to cite a few – manufactured using CornLeaf, a yarn made by RadiciGroup from Ingeo™ polylactic acid (PLA) biopolymer, a 100% natural material made from renewable vegetable resources.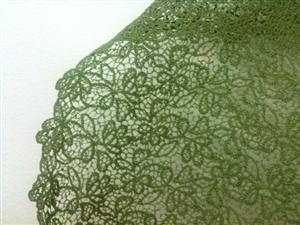 During the last few years, the fashion industry has made progress in its commitment to developing environmentally friendly products. There has been an increase in the number of big fashion brands that have become aware of not only the environmental impact of the fashion business but also the importance to get final consumers involved and increase their environmental awareness, so as to steer the fashion business towards sustainability. The new lace fabric manufactured with CornLeaf is an example of how RadiciGroup and Ritex SpA, with the collaboration of yarn twister Alcafil Srl, translate their commitment into concrete action on the front of sustainable innovation. The new product will allow the two Italian partners to meet the growing market demand for low environmental impact fabrics that do not compromise on high performance.
CornLeaf yarn properties …
CornLeaf is a bacteriostatic solution-dyed yarn made of Ingeo™ polylactic acid (PLA) biopolymer, a 100% natural material made from renewable vegetable resources. Because of its properties and the production process used, CornLeaf fully meets eco-sustainability standards, such as lower CO2 emissions and reduced water and energy consumption. Solution dyeing during the spinning stage means that the CornLeaf production process requires less water and energy compared to traditional dyeing and finishing. The yarn is available in a wide range of lightfast, wash-resistant colours. Antimicrobial functionality is achieved through the use of HEIQ materials, by incorporating a special silver micro-compound into the fibre. Furthermore, its effectiveness has been certified according to ISO 20743:2007 standards. The compound will not interfere with the compostability of the yarn. In brief CornLeaf combines the advantages of natural fibres with those of synthetics: light weight, tenacity, comfort, UV resistance and safety.
Fabric properties …
Thanks to the use of CornLeaf yarn, the Ritex fabric ensures the highest degree of sustainability together with excellent performance: light weight, softness, durability, excellent colourfastness and a bacteriostatic effect. Since the yarn is derived from a natural raw material, the fabric is anallergic and safe to the skin.
Source
RadiciGroup, press release, 2012-07-06.
Supplier
Share