Royal DSM and 3Dmouthguard have joined forces to make sports a little bit safer. The companies will develop custom-made and instantly printed 3D mouthguards to protect teeth and mouth injuries in any type of sport that involves bats, balls, sticks or person-to-person contact.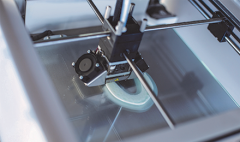 Together with Carestream Dental and NHL Stenden Hogeschool, the companies have developed a new technology to print custom-made mouthguards in 3D on the spot.
By scanning the upper jaw with video technology and digitally capturing all curves and shapes of mouth and teeth, a perfectly fitted mouthguard can be printed on the spot using fused filament technology. The additive manufacturing (AM) process uses a continuous filament of DSM's Arnitel, a bio-based material that meets all strength, flexibility and health requirements. The new AM technique, combined with the 3D filament material characteristics, completely automates and digitizes the process of producing customized mouthguards and prints them instantly.
"Providing the right material and the right platform for specific applications is key to accelerating the adoption of 3D printing into real manufacturing. Collaboration in the industry will allow more applications to benefit from the great advantages of additive manufacturing, at an affordable cost," said Hugo Ferreira da Silva, Vice-President at DSM Additive Manufacturing
In the coming months, the first 3D printed mouthguards will be thoroughly tested by a number of Dutch field hockey clubs. The partners' scientists and developers will use the data captured to further finetune and scale-up the AM process.
Arno Hermans, CEO of 3Dmouthguard said: "We believe that in a few years from now, 3D printed mouthguard machines will be a must have in every sports facility around the world. For us the technology is also a start of a whole field of new applications. It enables us to learn, develop and explore new products like shinguards, helmets, and elbow protection, and it can benefit markets beyond sports such as healthcare."
Source
Bioplastics MAGAZINE, 2018-04-17.
Supplier
3Dmouthguard
Carestream Dental
DSM
NHL Stenden Hogeschool

Share