In Germany, millions of solid pine and spruce masts, electricity and phone lines carry. Several 100,000 of the wooden masts need to be replaced every year. In the procurement of the tribes is not easy. You must be very homogeneous on a length of over 12 metres. The harvest with traditional fully automated harvesters is usually not possible in particular with pines for quality reasons. And the need for overhead line masts rising with the expanding decentralized supply of renewable electricity volumes. Also increase the quality requirements: the masts must be sized larger and tougher weather conditions they must withstand.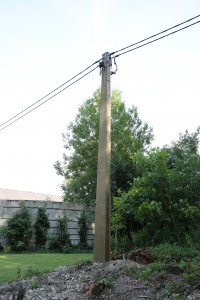 In the focus of network operators and owners of power and telecommunications networks, in particular ecological, but also low-maintenance and particularly long-lasting products are available. The University of Göttingen is planning the manufacture of masts from laminated veneer lumber (also known as laminated veneer lumber, LVL) in cooperation with the mast manufacturer of induo system Holztechnik GmbH. In particular the book LVL available only for a few years on the market seems promising here. Its properties can be expected that masts this made meet all structural requirements and reach in terms of power consumption similar values such as steel or concrete poles – and with considerable material, weight and cost savings.
An important point in the research project is the development of appropriate phenols for the impregnation of the Buchenhölzer to prevent the infestation by wood-destroying fungi.
In the project, also the already on the market laminated veneer lumber poles from softwood in terms of materials used and the service life will be further optimized.
Source
FNR, press release, 2017-04-21.
Supplier
Fachagentur Nachwachsende Rohstoffe (FNR) e.V.
induo Systemholztechnik GmbH
Universität Göttingen

Share