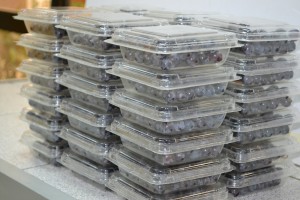 Some of the fruits that Chile exports such as berries and blueberries are sent to different markets in clamshell containers, which are commonly made ​​of a traditional clear plastic.
However, due to the strong tendency in the world to develop environmentally friendly products and the applicability of new environmental regulations regarding the handling of polluting waste of production processes, the industry is looking for alternative containers that are friendlier to the environment.
In this context, Conicyt approved the project to produce biodegradable containers for export fruit packaging and transportation, which are executed by the Technological Development Unit (UDT) of the University of Concepción.
The idea of this initiative is to seek alternatives to produce biodegradable containers for fruit export in partnership with various companies in the field.
Johana Castaño, project manager and investigator of the Biomaterials Department at UDT, explained that the idea is to scale the production of biodegradable containers developed for the domestic fruit industry, considering in turn, the most convenient economic and market alternatives for their industrial application".
In addition, the investigator said that the development of this type of containers can position Chile as an international benchmark, which would also allow fruit sector companies and container suppliers to be much more competitive internationally.
Production
"Scientific and technological studies such as the optimization of processing at the pilot and industrial level, container design, thermo-mechanical characterization and their evaluation in simulated conditions of use will be required to achieve the development of biodegradable plastic containers", suggests Castaño.
Companies linked to this initiative, which have a budget of 120 million pesos, are Petroquim, Ultrapac Sudamérica y Agrícola and Ganadera Rio Cato.
Source
University of Concepción, press release, 2014-06-20.
Supplier
CONICYT Comisión Nacional de Investigación Científica y Tecnológica
Petroquim
Ultrapac Sudamérica y Agrícola
University of Concepción

Share
Renewable Carbon News – Daily Newsletter
Subscribe to our daily email newsletter – the world's leading newsletter on renewable materials and chemicals