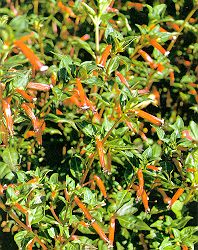 MORRIS, M.N. – It is harvest time for a little-known specialty crop grown in the central Midwest that could have a significant impact on U.S. agriculture. After 20 years in development, the new oilseed crop, called cuphea (koo-FEE-ah), has the potential to lessen the U.S. trade deficit, reduce U.S. dependency on some petrochemicals, and most importantly for U.S. agriculture, deliver profitable alternatives to growers – including rotation with corn.
"This crop can improve the balance of trade for the U.S., because it replaces currently imported materials for which there are no domestic competitors," said Dr. Terry Isbell, research leader in the new crops and processing technology unit at the U.S. Department of Agriculture in Peoria, Ill.
For five years, a consortium of experts from academia, government and industry has worked diligently to develop cuphea for U.S. agriculture, and now commercialization of the crop is close at hand. Participants in the consortium include Procter and Gamble, USDA, Western Illinois University, the University of Georgia and Technology Crops International.
Cuphea has potential to become major specialty oilseed crop
With crude oil prices at an all-time high and trade deficits a growing economic concern, the news couldn't come at a better time for the U.S. economy – and for Midwest growers. Although only 100 acres of the crop have been grown this year, the crop's expansion is expected to jump to thousands of acres in the coming years.
"This is a specialty crop that literally has the potential to be a major new oilseed crop," said Andrew Hebard, CEO of Technology Crops International, a global specialty crop production company that is leading commercialization of the crop. "We will be looking to significantly increase our contract crop production of cuphea in 2006 and are seeking qualified growers interested in spearheading its commercialization at the farm level."
Cuphea produces a tiny oilseed which contains lauric acid and other natural fatty acids valued by industry. Modified lauric acid acts as a surfactant and is used in a multitude of household products, including soaps, detergents, shampoos and toothpastes. A C-12 fatty acid, lauric acid offers unique solubility in water and is responsible for the beneficial sudsing and cleaning properties of these products.
Running the numbers
Based on 2003 data, the world market for lauric oil is 4.5 million tons. Brian McCormick, research and development material owner for Procter and Gamble Chemicals, has been personally involved in developing cuphea for six of the 20 years that Procter and Gamble has been involved in the crop's development.
According to McCormick, "The U.S. consumes about one third, or up to 1.5 million tons, valued at more than $500 million in 2004. Imagine that supply coming from U.S. farmers right here at home."
Cuphea excels in rotation with corn
"Cuphea offers some significant and unexpected economical benefits to farmers, particularly corn growers," said Isbell. "First year corn simply has better vigor when cuphea has been in the ground the previous year. We have proven that rotating cuphea with corn reduces root worm infestation, which can reduce the need for insecticide use and save growers as much as $20 to $30 per acre in input costs.
"To our surprise, our studies with cuphea lead us to believe that the crop also has a positive impact on corn yield," Isbell added.
Several milestones key to the acceptance of cuphea within U.S. agriculture have already been met. Cuphea can be mechanically harvested and now qualifies as a corn rotational crop. In fact, cuphea has proven comparable to, or better than soybean as a corn rotation crop. Field trials with the crop demonstrate that it reduces the need for herbicide and insecticide usage as well.
"This crop holds tremendous potential for Midwest growers," Hebard said. "Much like sunflower, the plant grows best in continental temperate climates, which is welcome news to farmers in Minnesota, Iowa and North Dakota."
Procter & Gamble seeking new domestic industrial oil supply chain
Driven by sales of consumer brands like Tide?, Oil of Olay?, Head & Shoulders? and Crest? – all of which utilize lauric acid-derived ingredients in their formulations – Procter & Gamble is one of the oldest detergent companies in the world, and not surprisingly, one of the largest purchasers of lauric oils and is eager to augment its lauric oil supply chain. The company has provided major funding for the cuphea work and brought in Technology Crops International to help secure its supply chain for lauric oil from cuphea.
Procter & Gamble Chemicals supplies oleochemical commodities produced in part from lauric acid for Procter and Gamble.
"Our business depends on lauric oils and we would certainly like to be able to purchase competitively-priced raw materials here in the U.S." said McCormick. "People don't think about the logistical cost of importing these oils, not to mention the risks involved with adverse weather conditions in Asia. We believe cuphea can supply a significant portion of our future needs."
Cuphea offers replacement for biodiesel products
"The properties of cuphea oil make it ideal for overcoming the challenges of existing biodiesel products," said Chris Zygarlicke, deputy associate director for research at the University of North Dakota's Energy & Environmental Research Center (EERC). The Center is partnering with the U.S. Department of Energy, the Agricultural Utilization Research Institute and Technology Crops International in a research project focused on utilizing cuphea oils to develop a biodiesel with cold-flow properties equivalent to or better than those of petroleum diesel.
For example, below -20 degrees C, aircraft fuel thickens, creating pumping problems, but the addition of oil extracted from cuphea reduces the fuel's freezing point. The project is administrated by EERC's Center for Biomass Utilization, which is cofunded by the Department of Energy and various corporate partners, and promotes research and development in converting biomass to energy, fuels and marketable products.
Growers anxious to sign up with Technology Crops International
Jeff Hufford, a grower near Morris, Minn., has grown cuphea for the past two years, and will harvest his current ten acres shortly. Hufford states that while growing the crop has been a learning experience, the fact it doesn't require specialized harvesting equipment has been helpful.
"I like the fact that this crop doesn't compete with domestically-grown crops," Hufford said. "I'm pleased to have been in on the ground floor with this project."
Technology Crops International links specialty oil users – such as Procter & Gamble – with quality growers to produce premium specialty crops, including high oleic canola, high oleic sunflower, rapeseed, cuphea and other high-value technology crops. This direct linkage between producer and processor offers many benefits to all stakeholders.
The business model ensures growers a guaranteed market and premium prices, while ensuring oil users a cost-competitive, sustainable and assured supply of raw materials. Technology Crop International's "soil to oil" approach incorporates management of all steps in the supply chain, from selling seed to farmers, to delivering oil to processors.
Technology Crops International will hold grower sign-up meetings in the Midwest in December and January. For more information, visit http://techcrops.com or call 877.780.5882.
Source
Farm & Ranch Guide Oct. 13, 2005.
Supplier
Share