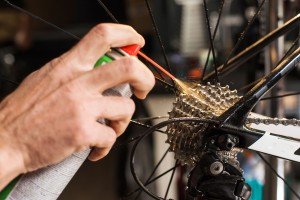 CLP (clean, lubricate, protect) products are traditionally made of hazardous mineral oils and other petro-based solvents. Cortec's EcoAir® Biobased CLP offers an excellent environmentally friendly alternative in the form of EcoAir® Biobased CLP, a biobased product in an air-powered spray can.
Utilizing a canola oil base, EcoAir® Biobased CLP contains 89% USDA certified biobased content. It provides excellent penetrating, lubricating, and rust preventing action for industrial, shop, and home use. It can be used for many functions such as loosening rusted parts and protecting equipment components from wear and corrosion. EcoAir® Biobased CLP leaves behind a very persistent layer that resists corrosion for up to 24 months. If needed, the layer is easy to remove with common detergents.
For ease of application and added environmental friendliness, Cortec® has packaged its biobased CLP fluid in an air-powered spray can that dispenses the lubricant without the use of flammable or ozone depleting propellants. EcoAir® Biobased CLP can be sprayed in any direction, even upside down. Once the product is fully dispensed, the empty can is recyclable.*
EcoAir® Biobased CLP has many practical uses for MRO (maintenance, repair, and operation) around the shop or home in order to perform its clean, lubricate, and protect functions:
Clean – Loosens and removes dirt and grime
Lubricate
o Works as an excellent penetrant and lubricant
o Loosens frozen and rusted bolts and other components
o Extends life of machine parts by reducing friction and wear
Protect – Provides multi-metal corrosion protection
EcoAir® Biobased CLP can be sprayed on carbon steel, galvanized steel, stainless steel, aluminum, and aluminum alloys. Typical applications include
In-plant machining
Bar and chain oiling
Flange lubrication
Lock and hinge maintenance
Mold release
EcoAir® Biobased CLP is freeze stable and comes packaged in 10 ounce net weight (284 g) recyclable steel cans, 12 cans per carton.
In addition to EcoAir® Biobased CLP, Cortec® packages a number of other corrosion protection products in environmentally friendly EcoAir® spray cans and offers private label and contract fill services at its Cortec® Spray Technologies plant in Spooner, Wisconsin.
To learn more about EcoAir® Biobased CLP, please visit the following link: https://www.cortecvci.com/Publications/PDS/EcoAir_Biobased_CLP.pdf
*It is always important to ensure that use and disposal of all materials is in accordance with local guidelines.
About Cortec Corporation®
Cortec® Corporation is the global leader in innovative, environmentally responsible VpCI® and MCI® corrosion control technologies for Packaging, Metalworking, Construction, Electronics, Water Treatment, Oil & Gas, and other industries. Our relentless dedication to sustainability, quality, service, and support is unmatched in the industry. Headquartered in St. Paul, Minnesota, Cortec® manufactures over 400 products distributed worldwide. ISO 9001, ISO 14001:2004, & ISO 17025 Certified.
Source
Cortec Corporation, press release, 2018-10-19.
Share