Cardia Bioplastics and Highland Plastics announce their cooperation on sustainable packaging systems for consumer and institutional applications. This collaboration follows a joint marketing launch at the West Pack Trade Show 2013 in Anaheim, USA.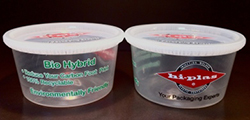 Highland Plastics is a USA manufacturer of injection moulded food grade plastic packaging for consumer and institutional applications and will now offer innovative packaging products with reduced dependence on finite oil resources and lower carbon footprint in line with a clear commitment to offering sustainable products and manufacturing processes now possible by the use of Cardia Biohybrid™ unique resin technology.
Cardia Biohybrid™ proprietary technology combines renewable thermoplastics with polyolefin material to reduce dependence on finite oil resources and to reduce carbon footprint.
Highland Plastics President, Jim Nelson, said, "The combination of packaging performance, environmental profile and cost effectiveness made Cardia Biohybrid™ technology the solution for Highland Plastics' responsible packaging needs. Cardia's Biohybrid™ technology fits into our strategy of being able to immediately offer our customers a responsible packaging offering providing a lower carbon footprint."
Cardia Bioplastics has positioned itself to capitalise on the expected growth in the Bioplastic business fuelled by the global trend towards sustainable packaging. The collaborating with Highland Plastics is again further endorsement of Cardia's diversified application of its resin technology adaptable to a broad range of packaging applications, including flexible film, injection moulding, blow moulding, foam, extrusion and coating applications. It gives customers the choice of using sustainable Cardia BiohybridTM technology (less oil, lower carbon footprint) or Cardia's internationally certified Compostable technology for their packaging or plastic products.
The collaboration with Highland Plastics follows Cardia's announcements of its supply agreements for compostable juicer bags with Breville in the U.S. and for Biohybrid™ kitchen waste bags with Shanghai Pudong City in China earlier this year.
About Highland Plastics
Highland Plastics is a USA manufacturer of food grade plastic packaging for consumer and institutional applications. Highland's commitment to product quality, customer service, and technical support is unsurpassed. At Highland Plastics we believe first impressions are lasting impressions. Exceptional products belong in exceptional packages. Our expertise in plastic consumer packaging will help you create that special package.
Source
Cardia Bioplastics, press release, 2013-04-08.
Supplier
Cardia Bioplastics
Highland Plastics, Inc.

Share