The Swedish airline Malmö Aviation has recently launched new breakfast boxes made of paperboard. The new boxes are made of Invercote and Invercote Bio. The boxes save space on board, extend the life of their contents, simplify handling and have a lower environmental impact than their plastic-based predecessors.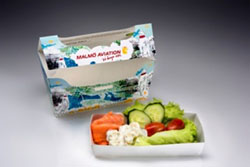 The environmental impact is reduced because some members of the Invercote family of paperboard are certified compostable. The new breakfast boxes are the result of a long development process focusing on both functionality and user friendliness. Instigators of the development were the catering company Picknick, the converters Omikron and Malmö Aviation's then project leader Annika Melin.
… Full Text: www.packagingdigest.com/article/522375-Compostable_breakfast_boxes_go_against_the_grain.php?rssid=20545
Tags: fibre-based paperboards, Invercote Bio, bioplastic, compostable, food
Source
Packaging Digest, 2012-08-28.
Supplier
Iggesund Paperboard
Malmö Aviation
Omikron

Share