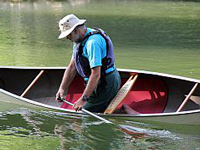 Composites Evolution's Biotex Flax materials have been used successfully by German-based canoe designer Lake Constance in its "Felicity" freestyle canoe.
The Biotex range of natural reinforcements provide a sustainable alternative to high-performance materials such as glass fibre. Biotex materials are designed by composites experts specifically for composites processes and are suitable for a wide range of applications such as automotive, sports and consumer products.
For its "Felicity" canoe, Lake Constance were looking for materials with excellent mechanical properties which could still maintain a natural aesthetics to the final product. With proven mechanical properties and easy processing, Biotex Flax helped Lake Constance stay true to the unique look and feel needed for its product.
The "Felicity" is a precise and agile solo canoe designed for freestyle and touring. Lake Constance build the canoes in-house, in a vacuum infused all-natural-fibre construction.
Sebastian Stetter at Lake Constance Canoes, commented "Using Biotex Flax meant we took a huge step forward towards fulfilling our mission – building canoes which are as sustainable as possible. Working with it was such a pleasure that we want to use it everywhere. Once we made the switch to flax, we never looked back."
Source
Composites Evolution, press release, 2014-08.
Supplier
Composites Evolution (biotex)
Lake Constance Canoes

Share