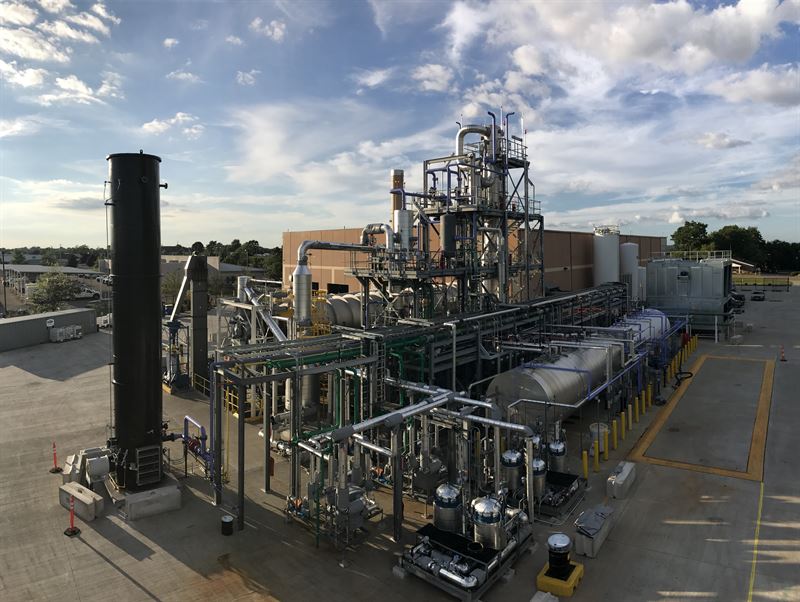 Neste has purchased the European rights to Alterra Energy's liquefaction technology, further solidifying the company's efforts to advance chemical recycling. Alterra Energy is a US-based company that has developed a proprietary thermochemical solution for liquefaction of hard-to-recycle plastic. In Akron, Ohio, the company is already running an industrial-scale facility that transforms end-of-life plastics into an intermediate product, which can be further refined into raw material for new plastics and other petrochemical products.
In 2020, Neste acquired a minority stake in Alterra Energy. Neste has further processed liquefied waste plastic sourced from, among others, Alterra Energy in a series of trial runs at its refinery in Finland. Together with Ravago, Neste also plans to set up a joint venture to deploy the Alterra Energy technology in Vlissingen, the Netherlands. Furthermore, to scale up processing capacities for liquefied waste plastic at its Porvoo refinery in Finland, Neste is currently conducting a feasibility study to examine investing in proprietary pretreatment and upgrading capabilities. Through chemical recycling, the company aims to reduce dependence on virgin fossil resources and accelerate circularity in the production of polymers and chemicals.
"Acquiring the rights to Alterra Energy's technology in Europe enables us to offer a holistic solution to our partners," says Heikki Färkkilä, Vice President Chemical Recycling at Neste Renewable Polymers and Chemicals. "Neste will be able to provide the full chemical recycling package: from waste plastic to product, offering high-quality drop-in feeds for the production of new polymers and chemicals."
Bringing together partners along the value chain
With the clear target to process more than one million tons of waste plastic per annum from 2030 onwards, Neste continues engaging with companies along the plastics value chain. This includes upstream partners such as recycling companies and technology developers, but also chemicals production partners and brand owners looking for more sustainable, circular solutions.
The ongoing joint technology development between Neste and Alterra Energy and the continued processing of mixed plastic feeds in the Akron facility have given Neste confidence that the Alterra Energy technology is among the winning solutions for the liquefaction of waste plastic material.
"We are pleased that Neste, a global leader in sustainability, has chosen Alterra Energy's advanced recycling technology to further accelerate its efforts towards circularity of plastics throughout Europe," says Frederic Schmuck, CEO of Alterra Energy. "Throughout the rest of the world, we will continue to support petrochemical industry players in meeting their sustainability commitments to brand owners and consumers."
While Neste has acquired the European rights to the technology, Alterra Energy will continue to operate independently in the rest of the world with the aim of commercializing the technology through licensing. As a partner and shareholder, Neste is committed to supporting the continuous development of Alterra Energy's technology, establishing it as one of the leading solutions in chemical recycling of plastic waste on a global level.
About Neste
Neste (NESTE, Nasdaq Helsinki) creates solutions for combating climate change and accelerating a shift to a circular economy. We refine waste, residues and innovative raw materials into renewable fuels and sustainable feedstock for plastics and other materials. We are the world's leading producer of sustainable aviation fuel and renewable diesel and developing chemical recycling to combat the plastic waste challenge. We aim at helping customers to reduce their greenhouse gas emissions with our renewable and circular solutions by at least 20 million tons annually by 2030. Our ambition is to make the Porvoo oil refinery in Finland the most sustainable refinery in Europe by 2030. We are introducing renewable and recycled raw materials such as liquefied waste plastic as refinery raw materials. We have committed to reaching carbon-neutral production by 2035, and we will reduce the carbon emission intensity of sold products by 50% by 2040. We also have set high standards for biodiversity, human rights and supply chain. We have consistently been included in the Dow Jones Sustainability Indices and the Global 100 list of the world's most sustainable companies. In 2021, Neste's revenue stood at EUR 15.1 billion. Read more: neste.com
About Alterra Energy
Alterra Energy is Solving Plastic Pollution® on a global scale with the development and commercialization of a continuous advanced recycling technology. At its Akron, Ohio plant, the company converts plastic destined for landfills into petrochemical materials that can be further refined into new plastic production and other petrochemical products. Alterra Energy utilizes a scalable, patented, thermochemical liquefaction technology to process and recycle waste plastic, diverting millions of pounds of plastic from landfills. Its team of engineers, technicians, experts, and partners are driven by one purpose: creating a cleaner planet for future generations. Alterra Energy licenses its technology to entities looking to recycle more challenging plastics or seeking more sustainable products. It is partnering with companies in the solid waste industry, government entities and petrochemical companies.
Source
Neste, press release, 2022-06-27.
Supplier
Alterra Energy
Neste Corporation
Ravago Recycling Group

Share
Renewable Carbon News – Daily Newsletter
Subscribe to our daily email newsletter – the world's leading newsletter on renewable materials and chemicals