The 1st International conference on Cellulosic textile fibers was held on 11–12 February in Cologne, organized by nova-Institute. In this its inaugural event, the conference already attracted over 200 delegates throughout the value chain. NC Partnering Ltd sponsored the conference and Partner-CEO Jukka Kantola was one of the keynote speakers.
Cellulosic textile fibers are a very interesting area within the bioeconomy and one where we see a lot of potential. Various types of development from several different stakeholders are currently in the pipeline from. At present the textile fiber market is around 100 million tons, of which cellulosic fibers accounts for 6%. The sector is dominated by synthetic fibers.
With 210 participants and 15 exhibitors from 26 different countries, the first conference on cellulose fibres was a great success and exceeded all expectations. The focus was on markets, technologies and sustainability – and especially alternative cellulose feedstocks.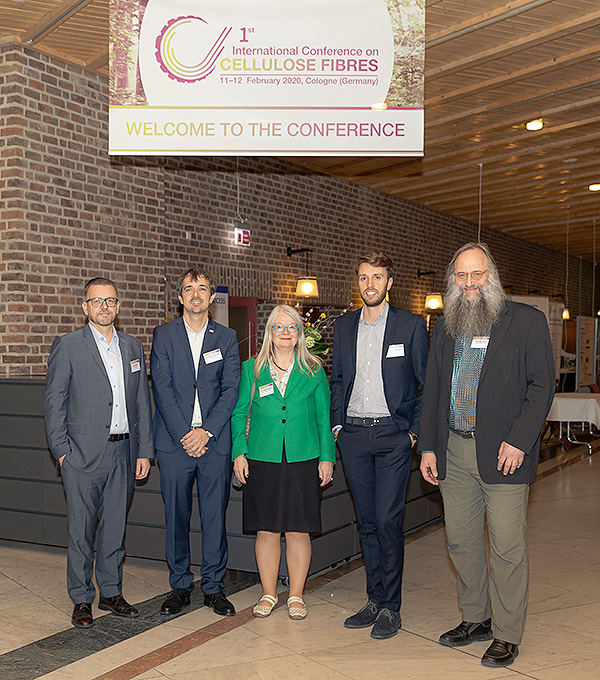 International Conference on Cellulosic textile fibers
1st International Conference on Cellulose Fibres; Sponsors of the Conference: (L-R) Jukka Kantola, NC Partnering (FI); Josef Innerlohninger, Lenzing (AT); Asta Partanen, nova-Institut (DE); Alessandro Pellegrini (IT); Michael Carus, nova-Institut (DE)
FACCE SURPLUS held its final celebratory conference on February 26th 2020 in Brussels (Belgium). It displayed not only FACCE SURPLUS achievements but also recent developments within the European bioeconomy. Jukka Kantola shared his views on the future of Bioeconomy in Europe panel discussion. In his address Jukka noted that, just as climate change has been top of everyone's agenda since the October 2018 IPCC report, so the circular bioeconomy will require the same type of awareness in order to speed-up its development. More on projects.au.dk
In Europe there are interesting biorefineries under development. The forest sector is getting more and more active on this side and we have seen new evololutions taking place. NC Partnering is pleased to collect a survey on Biorefineries in Europe by The Confederation of European Paper Industries for summer 2020.
Associated partner introduction
Praveen GuptaWe are delighted to welcome Mr. Praveen Gupta as NC Partnering associated partner. Mr. Gupta has solid experience in a variety of different leadership and management positions across a range of industries.
More one his background
An electronic engineer with PG Diploma in sales & marketing management.
Leadership with cross cultural best practices, brings a unique blend of Indian entrepreneurial mindset with hard-core sales, services, operations and general management expertise.
25 years Sales & Customer Services focused growth story, 11 years with Japanese MNC brands Konica & Fuji, selling high-end Medical devices, imaging equipment, consumables & services based in Chennai and 10 years with Finnish MNC, UPM Kymmene / UPM Raflatac (Paper, Pulp, Printing & Packaging solutions)
15 years of P&L Leadership and General management positions
Several executive programs attended in India & abroad. IMD, Lausanne, Switzerland, Harvard Business School and IIM-L, India.
Handled a wide range of product portfolios such as Industrial, capital equipment & consumables, medical, consumer and printing & packaging
Working experience within Indian and MNC, multi-lingual & multi-cultural environment
Travelled extensively throughout India, parts of Europe, South Africa, Middle East & China
His core competencies include
Leadership skill with conscious decision making
Dealer, Distributors & Franchisee Network Management
Business Development, Sales & Customer Relations management
Team Building, organisational growth and Development
Green field project, planning to execution
Source
NC Partnering Newsletter 02/2020, 2020-02-28.
Supplier
Confederation of European Paper Industries (CEPI)
NC Partnering Ltd
nova-Institut GmbH

Share