Carbiolice, a French start-up created in 2016, formally announced during a presentation at the European Bioplastics Conference currently taking place in Berlin, the launch of their innovative enzymated masterbatch called Evanesto, which offers a totally biodegradable solution for PLA.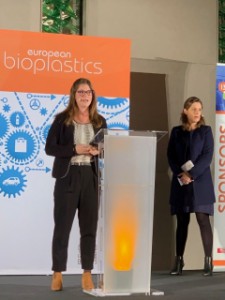 The masterbatch, in a concentration of less than 5%, is added to a compound with a high content of PLA, which, said presenters Clementine Arnault and Sophie Macedo, causes the PLA to become suitable for home composting.
The enzyme masterbatch has been engineered to become activated only in certain conditions, explained Clementine. "It will become active at a certain pH, temperature and humidity – and these are not conditions under which it is stored and processed. They are the conditions found in a domestic compost heap."
Tests with thin films have shown that complete degradation is achieved within a time frame of 182 days. Testing is still ongoing for thicker films, but the initial results 'have been positive'.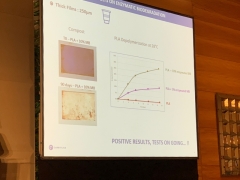 The company plans to work on the scale-up in 2019 and look for partnerships in 2020, for the commercial deployment of the product in non-food applications.
"We are looking for strong collaborations to make the technology available," said Sophie Macedo.
Carbiolice is the result of an alliance between Limagrain Céréales Ingrédients, a global seed company, CARBIOS, a green chemistry company developing enzymatic technologies, and the investment fund SPI, managed by Bpifrance. The company also produces a range of compounds, partially biobased, 100% biodegradable and compostable, specially designed for thin film applications.
Source
Bioplastics MAGAZINE, 2018-12-05.
Supplier
BPIFrance
Carbios
European Bioplastics e.V.
Limagrain

Share