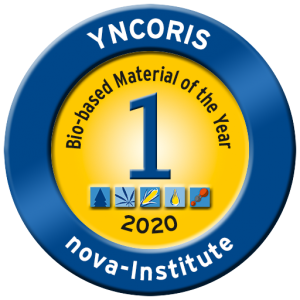 The established innovation award "Bio-based Material of the Year" will once again be granted to novel, innovative and trendsetting bio-based materials and products. The target of the award is to bring new developments, launched in 2019 or to be launched in 2020, into the spotlight. The award is given by nova-Institut and sponsored by YNCORIS Industrial Services. 
Deadline for submissions is 15 March 2020.
The innovation award will be carried out within the framework of the "13th International Conference on Bio-based Materials" in Cologne, 12-13 May 2020.
The Bio-based Material Conference is a well-established meeting point for companies working in the field of bio-based chemicals and materials. Among the applicants, six candidates will be nominated for the award by an independent expert jury, who will then get the opportunity to hold a ten-minute presentation at the conference. The participants of the conference will elect the final winner of the innovation award "Bio-based Material of the Year 2020''.
Applying to the award is free of charge and each nominated "Top 6" candidate will receive one free 2-day ticket to attend the conference. This is a unique opportunity to promote new bio-based materials and products. nova-Institute will issue a worldwide press release and use all communication channels to publish the award-winning material or product. More information can be found at online application form.
In the past, the companies like Aakar Innovations (IN), Aimplas (ES), Arctic Biomaterials (FI), Bio-Lutions (DE), Cardolite Corporation (US/BE), Covestro (DE), Fischerwerke (DE), Ecovative Design (US), Evonik (DE), FKuR(DE), Golden Compound (DE), Hib Trim Part Solutions (DE/JP), NewLight Technologies (US), Omodo (DE), Orineo (BE), Paptic (FI), Phytowelt (DE), Qmilk (DE), Spinnova (FI) and Staedtler Mars (DE) have already won the Innovation Award. We received a great feedback from these companies and they reported a significant boost for their bio-based innovation after the conference. More details about the winners from previous years can be found here (PDF).
More than 300 participants, mainly from the industry, are expected to attend the International Conference on Bio-based Material, 12 – 13 May 2020 in Cologne.
Source
nova-Institut GmbH, 2020-02-07.
Supplier
Share