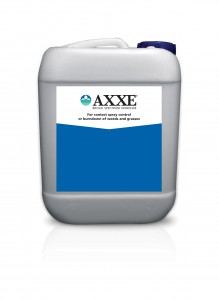 BioSafe Systems, LLC has created a fast and effective herbicide that rapidly burns weeds within hours of application. AXXE Broad Spectrum Herbicide® is a non-selective and highly potent glyphosate alternative that does not come with the health concerns synonymous with conventional herbicide application. It is perfect for use in schools, playgrounds, hospitals, daycares, HOA's, commercial and residential landscapes.
AXXE's active ingredient, Ammonium Nonanoate, is a plant fatty acid that penetrates the cell wall of plants, disrupting cellular function in targeted weeds. It kills weeds on contact and does not volatilize or systemically kill. AXXE produces no residue and does not have resistance issues. Its sustainable chemistry is made in America and OMRI-listed for organic use.
AXXE can be tank mixed to improve other herbicide efficacies. When paired with nonionic surfactants, AXXE is absorbed quicker and spreads over the plant's entire surface, leading to more efficient and effective weed control.
BioSafe Systems is proud to announce that AXXE is now a USDA Certified Biobased® Product. This product label indicates that AXXE's formula contains 100% biobased products, or rather, products that are derived from plants and other renewable agricultural, marine and forestry materials. The label recognizes AXXE as a sustainable product that follows the USDA BioPreferred Program's goal of increasing the development, purchase and use of biobased products to improve environmental health.
Source
Biosafe Systems, press release, 2019-03-26.
Supplier
BioPreferred
BioSafe Systems, LLC
Organic Materials Review Institute (OMRI)

Share
Renewable Carbon News – Daily Newsletter
Subscribe to our daily email newsletter – the world's leading newsletter on renewable materials and chemicals