It is expected that in the future, a growing share of the added value will come from bio-based products other than pulp, paper and board. Forest industry companies are developing more and more business related to new bio-based products as a complement to their 'traditional' products. Recently, some major investments in new and existing biorefineries were announced and some are now moving towards implementation.
NC Partnering has been helping the Confederation of European Paper Industry (Cepi) to collect the status of biorefineries and bio-based products in Europe. The study includes emerging bio-based products which are already in commercial production. It also covers the status of announced investments. The future of the bio-based products is evaluated based on on-going development programs.
This study is the first wood-based biorefinery survey conducted at European level – actually this type of study has not been done at any other continent level either. The target of the study was to register biorefineries in Europe and what products they produce. Also, the study indicates the value of the new bio-based products.
It is important to note that the forest industry itself is already producing bio-based products no matter whether they are already well-established, like e.g. paper and board or emerging, e.g. bio-composites or MCC. Interested mapping biorefineries and emerging bioproducts in your area? NC Partnering can help you in:
Defining biorefineries and emerging bio-based products in your region
Grouping emerging bioproducts into sensible categories
Creating a map and database on biorefineries
Getting a holistic picture on the status of biorefineries and which direction the industry is developing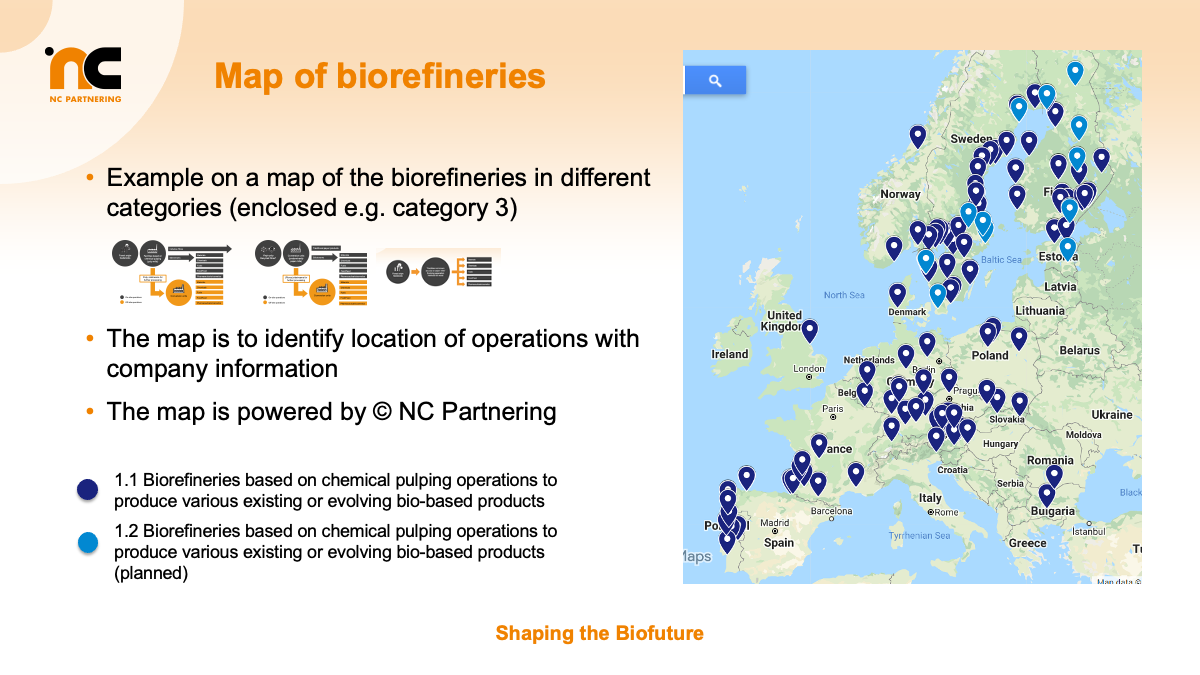 NC partnering can serve you to conduct a survey to get biorefineries mapped out in your region as well as compose a database on emerging bioproducts which can be be updated periodically. This ensures you will have holistic view of the sector and even more you can use it to set requirements and expectations for policy makers.
The study will typically take 9–12 months and begins with the scope and agreeing the definitions to be used. Definitions are key to ensure the focus of the survey. Information collection is not only based on public information, but it will be completed via questionnaires for the relevant stakeholders. As a result you will have a map of the biorefineries and spreadsheets revealing the value of the sector.
Source
NC Partnering Newsletter 2020-10, 2020-10.
Supplier
Confederation of European Paper Industries (CEPI)
NC Partnering Ltd

Share