Total SA announced this week that they will be introducing bio-based plastics for the rotomolding industry, leaning heavily on PLA as their flagship resin for implementation in this market. This is certainly interesting for a number of reasons, not the least of which would be Total's potential to challenge NatureWorks as near-standalone supplier of PLA in North America.
Additionally, this introduction lends even more traction to an already rich field of bio-based offerings for engineers to consider as they look to find material solutions that meet their performance and financial objectives. It wasn't long ago that these bio-based materials were priced far beyond the reaches of their petrochemical counterparts, but we've seen dramatic improvement on price points that have since narrowed the gap significantly.
Despite the scaling of these operations and the fantastic improvements to cost position and market price that companies like NatureWorks and Total have offered, there is still a gap present. Biodegradable and/or bio-based resins remain more expensive than traditional petroleum-based plastics, adding financial risk to the engineering risk associated with any change of material.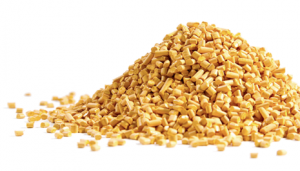 Working hard to meet the demands of the market, Genarex is proud to present BYLOX bioadditive materials to address this problem. BYLOX bioadditives are certified as over 98% Biobased according to the USDA Biopreferred program (ASTM D6866), and interface very well with a number of sustainable resins, including PLA and biodegradable polyesters.
With the addition of BYLOX-T to the portfolio, Genarex can offer bioadditive materials which surpass the thermal stability of traditional biobased additives, and can be processed at the traditional operating temperatures of many commodity and engineering thermoplastic resins. BYLOX bioadditives also feature a very attractive price tag – with finished masterbatches less expensive than virgin polyolefins, they can help customers use bioplastics without breaking their budgets.
Author
Bob Montgomery
Source
Genarex Blog, press release, 2014-07-07.
Supplier
Genarex
NatureWorks LLC
Total
US Department of Agriculture (USDA)

Share
Renewable Carbon News – Daily Newsletter
Subscribe to our daily email newsletter – the world's leading newsletter on renewable materials and chemicals