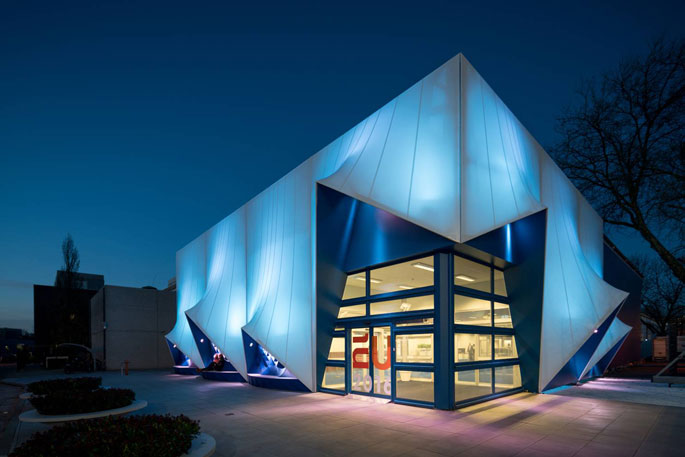 European politicians and officials who are in Amsterdam during the Dutch EU Presidency meet in temporary buildings, including the Europe building. The entrance of the building is designed by DUS Architects and Heijmans using 3D printing techniques. If you walk by the building you see a 3D façade of 'white sails' and 3D printed benches.
Entrance design
The entrance of the building is partially constructed with playfully shaped sails which refer to the yachts that were previously built on site. This creates alcoves, which house EU blue-coloured 3D printed benches. At sunset, the benches and back façades are illuminated with spotlights. Light pulsates slowly behind the canvas, going on and off in two minutes. The design is by DUS Architects and Heijmans installed and constructed the elements. Philips is responsible for the lighting.
Europe Building
The official meetings on the Marine site take place in the Europe Building. The modular structured and demountable building was built by Neptunus and is 20 by 35 metres in size. During the six months, international meetings are held here every day. The building is both functional and attractive and there are a total of 135 meetings taking place. About 17,500 participants, including many top ministers, will pass through this unique entrance on their way to the meetings.
"It is wonderful to see how passers-by sit in the façade. It really becomes a public place to stay." Martijn van Wijk, DUS Architects
3D printed
Each seating element of the 3D facade is parametrically designed and fits perfectly in every alcove. The spatial pattern from bottom to top has a different shape to emphasize the diversity, but at the same time also the convergence of the EU countries. The seating surfaces are filled with light-colored concrete. This provides added strength and a contrast to the blue, printed pattern. The elements are produced locally with the life-size 3D printer of the 3D Print Canal House. This printer can print elements of 2 x 2 x 3.5 metres 3D and uses Fused Deposition Modelling (FDM) technology. With this technique, bio plastic is melted and built up layer by layer with a computer-controlled printer head. The print layers of the production process are clearly visible in the end product.
"It is important for Heijmans to cooperate with young, creative companies. This project is the perfect example of how we can jointly position the Netherlands on the (European) map as an innovation country." Alma Krug, Heijmans
The cooperation between DUS Architects and Heijmans is a result of the 3D Print Canal House project in Amsterdam-North, in which they experiment with large-scale 3D printers and new materials.
Contacts
Alma Krug
Business Development Manager
phone: +31 (0)6 270 059 92
email: akrug@heijmans.nl
Hedwig Heinsman
Architect
email: hedwig@houseofdus.nl
Source
DUS architects, press release, 2016-01-07.
Supplier
3D Print Canal House
DUS architects
European Union
Heijmans
Neptunus
Philips Lighting
TenTech

Share
Renewable Carbon News – Daily Newsletter
Subscribe to our daily email newsletter – the world's leading newsletter on renewable materials and chemicals