The factsheet is part of our new series of guides outlining "Need to Know" information about the bioeconomy in Europe. They provide a concise summary of how different EU governments are supporting the growth of the bioeconomy through policy, strategy and research. The factsheet was produced through the Interreg IVB NWE Bio Base NWE project.
The Bio Base NWE partnership consists of seven European organisations, Bio Base Europe Pilot Plant, Belgium; Bio Base Europe Training Centre, The Netherlands; NNFCC, UK; Technology Centre for Biorefining and Bioenergy (TCBB), Republic of Ireland, CLIB2021, Germany; REWIN, The Netherlands and Gent Bioeconomy Valley, Belgium. This factsheet gives an overview of the European Union's bioeconomy innovation technology system. It includes the key government interventions, research initiatives, networks and finance instruments, in the EU.
Bioeconomy Governance in the EU
Bioeconomy development, regulation, and coordination in the EU is governed by:
The European Commission (EC)
The European Bioeconomy Panel supports interaction between bioeconomy policy areas
Bioeconomy Strategy
In 2012, the EC adopted the strategy and action plan Innovating for Sustainable Growth: a Bioeconomy for Europe, to shift the European economy towards greater and more sustainable use of renewable resources. This bioeconomy strategy is part of the Europe 2020 flagship initiatives Innovation Union and A Resource Efficient Europe. The goal is a more innovative and low-emissions economy, reconciling demands for sustainable agriculture and fisheries, food security, and the sustainable use of renewable biological resources for industrial purposes, while ensuring biodiversity and environmental protection. The strategy and action plan outlines a coherent, cross-sectorial and inter-disciplinary approach to the issue with three key pillars:
Investment in research, innovation and skills
Development of markets and competitiveness
Reinforced policy coordination and stakeholder engagement
To regularly assess progress, and make information accessible, the EC fund the Bioeconomy Observatory, managed by the Joint Research Centre (JRC), which collates data and documents on EU bioeconomy policies, research and markets.
For further information about the bioeconomy in the EU, please download the Factsheet EU  
Powered by: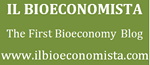 Source
Supplier
Bio Base Europe (BBEU)
Bio Base NWE
Bioeconomy Observatory (BIOBS) - European Commission
Cluster Industrielle Biotechnologie e.V. (CLIB2021)
Competence Centre for Biorefining and Bioenergy (IRL)
Ghent Bio-Economy Valley
Joint Research Centre (JRC)
REWIN

Share