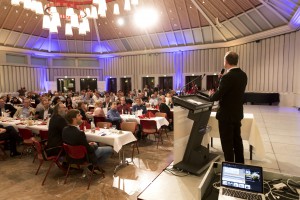 Deutsche Fassung: https://renewable-carbon.eu/news/innovationspreis-biocomposite-of-the-year-2017-verliehen
The 230 participants of the Biocomposites Conference Cologne (BCC), the worldwide largest conference on Natural Fibre and Wood-Plastic Composites, chose the three winners out of six nominees. The Innovation Award highlights biocomposites and their applications that entered the market in 2017 or are just about to be launched.
More and more companies use Natural Fibre and Wood-Plastic Composites in a wide range of applications such as construction, automotive and consumer goods. Special appearance and haptic, green image, weight savings, shorter cycle times, scratch resistance and, above all, a lower CO2 footprint are important factors for this trend.
nova-Institute and Coperion GmbH (DE), the sponsor of the Innovation Award, are proud to announce the winners of the Biocomposite of the Year Award 2017:
GreenBoats (DE): GreenBente24 – boat from 80% renewable materials
Usually, mass produced boats are made of fossil-based resins, glass fibres and plastic foam. By contrast, GreenBente24 from GreenBoats (DE) is made from 80% out of renewable materials like flax, cork and bio-based epoxy resin. The GreenBente24 has the same weight and stiffness as a standard boat. The boat achieves a 80% reduction of carbon footprint compared to other options, is thermally recyclable and has a particularly pleasant living climate. www.green-boats.de/greenbente
Raimund Beck Nageltechnik GmbH (AT): LignoLoc® – Collated wooden nails
Nails made from wood are one of the oldest known fasteners in the world, thus Raimund Beck Nageltechnik GmbH (AT) has initiated the next evolution stage LignoLoc® – collated wooden nails for use with pneumatic nailers. This new technology requires no pre-drilling; offers maximum holding power due to a natural welding effect with the base wood and offers new application fields for domestic beech wood veneer and can replace steel nails in many applications. www.beck-lignoloc.com/en
Eindhoven University of Technology (NL): Fully bio-based pedestrian bridge
A fully bio-based pedestrian bridge, the first in the world, has been realised at the Eindhoven University of Technology (NL). After a successful load test (5,0 kN/m2), the bridge was installed by the company NPSP bv (NL). Flax and hemp fibres provide the strength for the bridge, combined with a bio-based epoxy resin. Polylactic acid (PLA) bio-foam provides the core. The production method was vacuum-infusion: layers of natural fibres were glued around a laser-cut shape of bio-foam. www.tue.nl/en/university/news-and-press/news/24-10-2016-the-worlds-first-biocomposite-bridge-on-the-tue-campus/
You can find more about the winners and other nominated candidates, the innovation award and the conference at www.biocompositescc.com/award
All proceedings of the conference will be available soon at www.bio-based.eu/proceedings
nova-Institute would like to acknowledge Coperion GmbH (DE) for sponsoring the renowned Innovation Award "Biocomposite of the Year 2017", Der Grüne Punkt – Duales System Deutschland GmbH (DE) as silver sponsor and FKuR GmbH (DE), Fibres Recherche Développement (FR), Linotech GmbH & Co. KG & ParaPack GmbH (DE), RENOLIT GOR S.p.A. (IT), simcon kunststofftechnische Software GmbH (DE) and VTT Technical Research Centre of Finland LTD (FI) as bronze sponsors of the conference.
Download press release as PDF file: 17-12-07 PR Biocomposite of the Year Award 2017
Source
nova-Institut GmbH, press release, 2017-12-07.
Supplier
Coperion
GreenBoats
nova-Institut GmbH
Raimund Beck Nageltechnik GmbH
Technische Universiteit Eindhoven

Share