An extensive study into the availability and quality of biomass resources in Europe has shown the potential for new lignocellulosic biorefineries to be opened in France, Finland, Romania and the Netherlands. The study was conducted within the Bio4Products Horizon 2020 project, which is testing the feasibility of a fast pyrolysis based biorefinery concept.
'Virtual' locations
Lead authors Capax Biobased Development first researched the total availability of selected biomass feedstocks in EU member states, focusing on lignocellulosic by-products and residues. Based on the results of this analysis, and additional factors such as sustainability, logistics and opportunities for industrial symbiosis, four 'virtual' plant locations were identified, with high potential for hosting a pyrolysis plant:
Bergen op Zoom, The Netherlands. Feedstock: Poplar (Short Rotation Coppice and phytoremediated poplar)
Marne region, France. Multi-feedstock: Wheat straw, Flax shives, Forestry chips (hardwood), Poplar wood slabs (sawmill residues)
South Karelia region, Finland. Feedstock: Forestry residues (softwood)
Moldova region, Romania. Feedstock: Sunflower husks
Each of the four locations has sufficient biomass available within a 100 – 150 km radius to sustain a typical 5 tonne/hour commercial plant. The report also includes information on the local biomass supply chains, investigating quality, seasonality and competitive usage of the selected biomass feedstocks.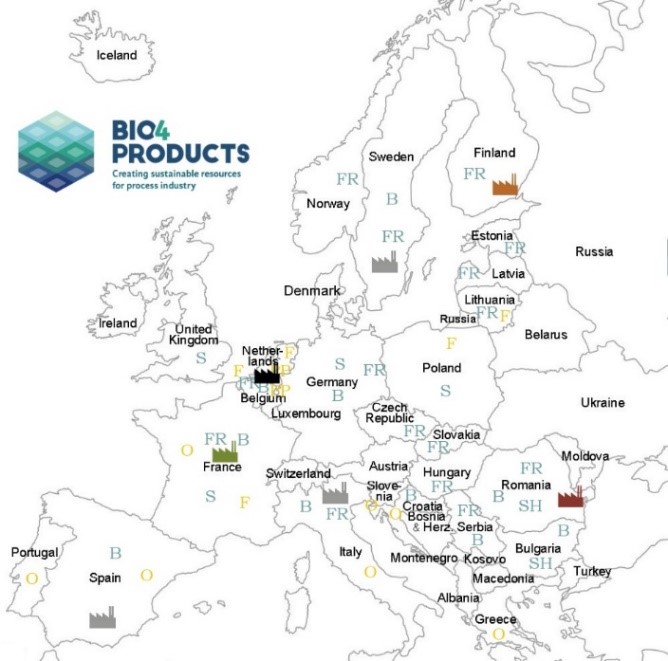 Pyrolysis based biorefinery
Today there are just two commercial fast pyrolysis plants in Europe; in the Netherlands and Finland. The Dutch EMPYRO plant produces electricity, process steam and fuel oil from woody biomass.
Within the Bio4Products project, BTG Biomass Technology Group are demonstrating how the main product of fast pyrolysis – a bio-oil – can be separated into pyrolytic lignin and sugars.
The lignin and sugar are renewable chemical intermediates that can be used to substitute fossil materials such as bitumen, phenols and creosote, in end-products including roofing materials, resins and wood modification. Industrial partners in the project are reporting positive initial results, and it is hoped that new bio-based products could hit the market soon after the project closes in 2020.
You can download the full report here.
Source
Bio4Products, press release, 2018-10-17.
Supplier
Biomass Technology Group BV (BTG)

Share
Renewable Carbon News – Daily Newsletter
Subscribe to our daily email newsletter – the world's leading newsletter on renewable materials and chemicals