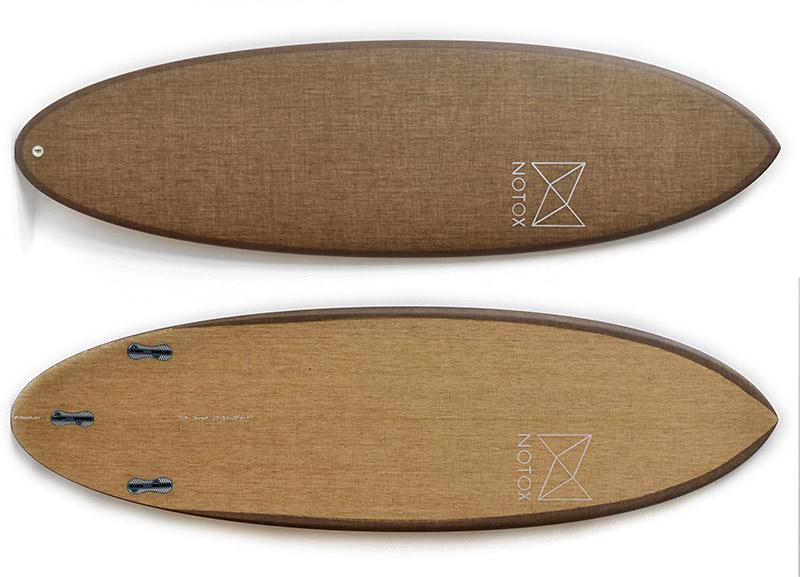 Bio resins continue to grow in popularity and manufacturers are keen to offer customers products that deliver environmental benefits with high performance results. French surf board producer, NOTOX, is striving and succeeding to introduce sustainable products into their production processes.
Over a decade ago, Sicomin and NOTOX (Anglet, France) began to address the untapped potential of bio resins in the manufacture of sports equipment. Together the companies have created a formulation that offers as little environmental impact as possible and supports greener production methods. The resulting product is Sicomin's GreenPoxy® 56 and it is now used to manufacture the entire range of NOTOX greenOne® short board, long board, SUP models, kitesurf boards and the newly launched Korko board.
When NOTOX was established in 2006, the founders' vision was clear – to provide surfers with boards that respect nature and to protect the people that produce them. The company was looking to offer the market an alternative range of surf boards that were not produced with standard glass reinforced polyester polymers and shaped polyurethane foam cores.
Although these traditional materials delivered clear performance benefits and helped elevate surfing to a high performance sport, the products emit toxins that have significant environmental and human health impacts. NOTOX therefore approached Sicomin in 2009 and together the companies began their development programme.
Sicomin had anticipated the rise in demand for naturally derived epoxy systems and was already in the process of developing their first bio resin, GreenPoxy 56®. The product contains over 51% carbon content which is sourced from plant and vegetable matter, the highest level available on the market.
NOTOX used GreenPoxy® 56 for the construction of their first greenOne® board design, a 6'4 hybrid short board. The prototype boards were constructed with EPS foam (expanded polystyrene) that contains up to 100% recycled content and is guaranteed to be HCFC free. A quadraxial flax fabric is then applied to minimise torsion and bending in the board, followed by the application of Sicomin's GreenPoxy® 56 for vacuum lamination to promote lightness, strength and dynamics. This system provides a clear and waterproof coating and a robust, hard wearing gloss laminate.
NOTOX strives to achieve the lowest carbon footprint possible and sources 80% of their products in France and 20% in Belgium. The boards are then assembled at the NOTOX facility in Anglet under their strict quality and environmental control standards labelled Ecoride Gold. The boards are trialed on the challenging surf beaches of the Basque region in South West France on the Atlantic Coast.
When comparing the eco-credentials of a standard surf board versus a NOTOX greenOne® board the results are striking. For example, a standard board contains 0% recycled materials and is produced from polyurethane foam, fibre glass and polyester resin and generates around 6kg of production waste. The greenOne® board made from recycled EPS, Sicomin's GreenPoxy®56 bio resin and flax fibres amounts to only 1kg of production waste.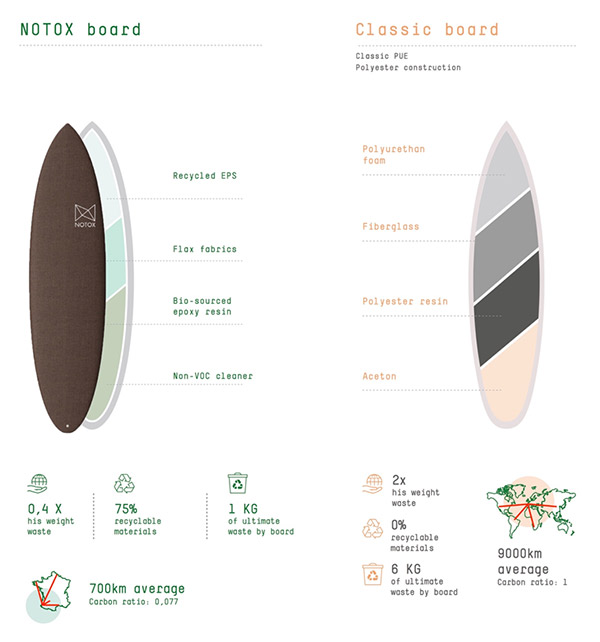 "Providing surfers with boards that match their core values is our aim. We are constantly striving to produce the most eco-responsible and sustainable products possible and through our technological synergy with Sicomin we have achieved this", comments Pierre Pomiers, R&D Consultant Expert at NOTOX.
Sicomin continues to invest considerable resource into the innovation of environmentally enhanced systems. The GreenPoxy® product range now encompasses; GreenPoxy®33, GreenPoxy® 56 and the newly launched InfuGreen810. These products contain bio contents ranging from 28% to 51%.
InfuGreen 810 is an advanced, two-component resin system with very low viscosity at room temperature and approximately 38% carbon content. The different hardener combinations allow the production of small to large parts including very thick laminates. InfuGreen 810 has been formulated to support manufacturers producing parts using injection or infusion techniques and is also DNV GL maritime approved.
The entire GreenPoxy® range is available in high volume, industrial quantities and is certified by the American BETA laboratory and French CNRS and tested in accordance with Carbon 14 measurements (ASTM D6866 or XP CEN/TS 16640).
Source
Sicomin, press release, 2017-05.
Supplier
Share
Renewable Carbon News – Daily Newsletter
Subscribe to our daily email newsletter – the world's leading newsletter on renewable materials and chemicals