In the last few years, many new innovations have taken place in the field of bio-based building blocks and platform chemicals for the chemical industry. The main recent innovations have been new production plants for several bio-based building blocks like succinic acid, isobutene, butadiene, butanediol and furan-based chemicals.
These products will be the focus of the conference's second day, when companies such as Reverdia (NL/F), Global Bioenergies (F) – with their latest investment in Leuna Chemical Park (DE) – SEKAB (SE), Corbion (NL), Arkema (F), SOPREMA (F), Succinity (DE/NL), Novozymes (DK), Avantium (NL) and Myriant, a special guest from the US, will present their latest innovations and investments, as well as their experiences of producing bio-based building blocks and polymers.
Programme of the 2nd day (9 April 2014) – an excerpt:
Building Blocks & Polymers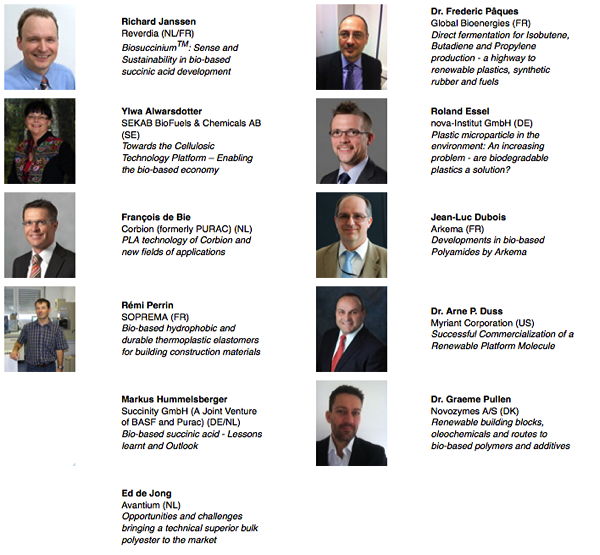 Source
nova-Institut GmbH, 2014-02-26.
Supplier
Arkema
Avantium Technologies B.V.
Corbion Purac
Global Bioenergies
Myriant Technologies LLC
nova-Institut GmbH
Novozymes
Reverdia
SEKAB
SOPREMA Group
Succinity GmbH

Share
Renewable Carbon News – Daily Newsletter
Subscribe to our daily email newsletter – the world's leading newsletter on renewable materials and chemicals