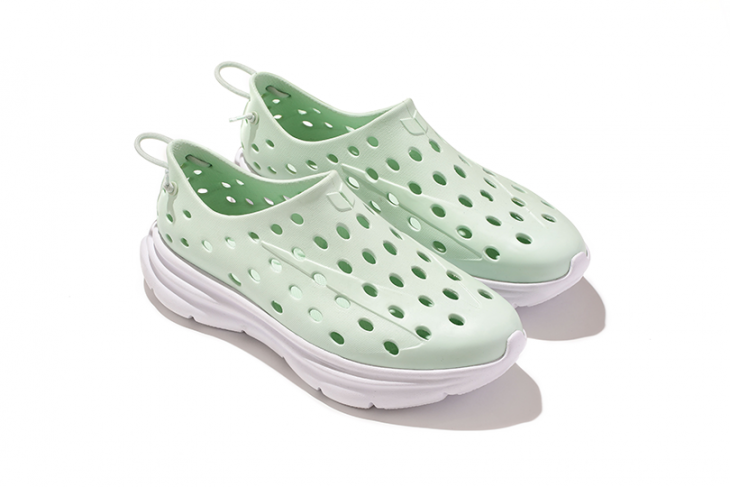 Kane Footwear, a new name in active recovery footwear, has launched a new, bio-based molded, EVA foam slip-on, which the company is marketing under the brand name Revive. Constructed from Kane's sugarcane-derived BounceBack foam, the Revive utilizes thoughtful styling and an active recovery design to provide support for fatigued muscles and all-day comfort.
The Revive represents a collaborative design partnership between Kane CEO, John Gagliardi, brand-building expert Bobby Riley of Soldier Unlimited, and Dr. Daniel Geller, a foot and ankle surgeon and advisor to Kane. Dr. Geller's work with the New York City Ballet, as well as top cycling and triathlon teams, helped Kane to develop an active recovery design that addresses superior construction, proper fit, cushioning, and air circulation – key properties in ensuring the Revive is not only comfortable but provides attributes necessary for the recovery of fatigued muscles.
"Coupling superior cushioning and proper mechanics Kane's Revive achieves the concept of a recovery shoe," notes Dr. Geller.
The Revive's features a dual-density construction. Featuring a firmer upper fused to a sole with 31mm of cushioning, the Revive supports smaller muscle groups within the foot and softens the impact of each foot plant. Kane also paid special attention to creating proper fit, an attribute that, when improperly addressed, can lead to undue muscle strain.
Forming the interior dimensions of the Revive, Kane has employed an anatomical last shape that mimics the natural proportions and contours of the foot. This design helps promote proper fit by capturing the arch, heel and instep of the foot while providing room in the toe box for the forefoot to rest.
EVA foam found in most recovery footwear is traditionally built using carbon-intensive petroleum-based polymers. Kane's BounceBack foam utilizes biopolymers derived from sustainably harvested Brazilian sugarcane byproduct. Sugarcane is not only a renewable resource but is considered carbon-negative as well—the plant synthesizes carbon dioxide into energy via sugar, which is then extracted to form the ethylene used in Kane's eco-based EVA foam.
In total, the Revive is composed of over 56% sugarcane, a ratio that Kane intends to increase in the years to come.
"It was important to me that sustainability was woven into Kane from the outset of the brand," commented Kane Footwear CEO, John Gagliardi.  "An obvious place for us to start was to be critical of the materials we used in production. As we learned more about the natural properties of sugarcane it became the clear choice for the Revive."
The Revive has been available on Kickstarter since February 16, 2021. Direct to consumer sales begin in June 2021. For additional product information please visit the company's website.
Source
Bioplastics MAGAZINE, 2021-02-26.
Supplier
Share