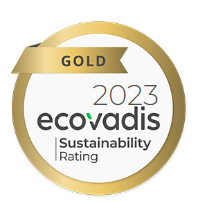 Avantium N.V., a leading technology company in renewable chemistry, has been awarded the EcoVadis Gold Medal in sustainability, after a thorough audit of Avantium's performance with respect to the Environment, Labor & Human Rights, Ethics and Sustainable Procurement, aligned with Avantium's sustainability ambitions. This award places Avantium in the top 2% of companies globally (cross sector) rated by EcoVadis.
EcoVadis is an evidence-based sustainability rating agency, which conducted the sustainability audit of Avantium at the request of the Dutch investment fund Invest-NL. In 2022, EcoVadis conducted an initial sustainability audit of Avantium, which also resulted in a Gold Medal award, placing Avantium in the top 4% of companies rated globally by EcoVadis. The improved 2023 score, elevating Avantium to the top 2%, resulted from enhanced performance in the areas of Environment, Ethics and Sustainable Procurement. In 2021, Avantium published its sustainability plan Chain Reaction 2030, committing Avantium to a series of goals and targets where it has the greatest impact on social and environmental issues.
Elina Eradus-Sviklina, Sustainability Program Manager at Avantium, comments: "We are very pleased that this year's EcoVadis audit resulted in an even higher score than the previous year. The goal of our sustainability plan Chain Reaction 2030 is to continuously enhance our sustainability efforts and achievements. It is great to see these improvements being recognized and appreciated by EcoVadis. Receiving a Gold rating from EcoVadis serves as both validation and motivation for us to continue to advance our sustainability efforts even further."
Source
Avantium, press release, 2023-10-31.
Supplier
Avantium Technologies B.V.
EcoVadis

Share
Renewable Carbon News – Daily Newsletter
Subscribe to our daily email newsletter – the world's leading newsletter on renewable materials and chemicals