For the 13th time now, the international trade publication bioplastics MAGAZINE is honoured to present the "Bioplastics Oskar". This year's line-up is one of the most international in the history of the awards.
Five judges from the academic world, the press and industry associations from America, Europa and Asia have selected the five finalists for the 13th Bioplastics Award. The prize will be awarded to the winner on December 4th, 2018 during the 13. European Bioplastics Conference in Berlin / Germany.
The 13th Bioplastics Award recognises innovation, success and achievements by manufacturers, processors, brand owners, or users of bioplastic materials. To be eligible for consideration in the awards scheme the proposed company, product, or service must have been developed or have been on the market during 2017 or 2018.
The 5 shortlisted companies/products are (without any ranking):
Loliware (USA)
Lolistraw – edible and hypercompostable straws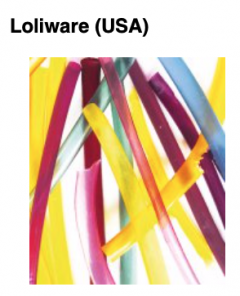 Produced and used in increadible volumes, yet too small to be recycled, plastic straws tend to usually end up in landfills and waterways, where they linger indefinitely. Determined to do something about this, Chelsea Briganti and Leigh Ann Tucker, co-founders of Loliware in New York, USA, have developed the Lolistraw. Hypercompostable and edible, the Lolistraw is made from Loliware's patent pending, seaweed-based, home compostable, marine-degradable, and non-GMO material. The material breaks down in the organics bin alongside food waste in 60 days or less.
Seaweed is a renewable resource that does not require land resources and actually absorbs CO2, which is why a seaweed-based product has an environmental advantage.
The initial texture of Lolistraw is like plastic, but can be made with a flavour or with added nutrients. Before traceless disposal, Lolistraw will last for up to 8 hours in a beverage and has a shelf life of up to 24 months. When the consumers are done sipping their drink, they can eat the straw or compost it.
As Leigh Ann Tucker said: "Our world needs a radically new approach to our daily consumption of single-use plastics which too often go to landfill or pollute oceans. Our solutions transform disposables into plant fuel through composting, or human fuel through consumption."
Technische Universiteit Eindhoven (The Netherlands)
The world's first biobased circular car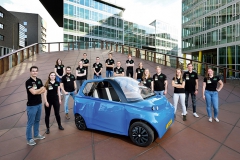 The world's first biobased circular car, designed and built in the Netherlands by the Technical University of Eindhoven, was presented earlier this year by the team of students responsible for its design and realization.
This is the first time that a car chassis and all bodywork has been made from natural and biobased materials – no metal or traditional plastics were used for the structural parts of the car. The parts are made up of light and strong sandwich panels, based on natural fiber flax and LuminyR PLA supplied by Total Corbion PLA.
The car, named Noah by the TU/ ecomotive student team, was designed as a city car and features two seats and a spacious trunk. Noah is currently undertaking a European tour of car manufacturers, suppliers and universities to inspire others. In addition to its biobased composition, it is also ultra-light and electricallypowered. Noah reaches a top speed of 110 km/h and the battery range lasts up to 240 km. At 360 kg, the weight of the car excluding batteries is less than half the weight of comparable production cars. In addition to being biobased, the parts are also recyclable, resulting in a 100% circular car, sustainable in all life phases.
The PLA supplied by Total Corbion PLA for use in the car is biobased and recyclable and made from renewable resources, offering a reduced carbon footprint versus many traditional plastics. High heat Luminy PLA grades were used to construct the car, in order to ensure durability and sufficient heat resistance.
Aakar Innovations (India)
Compostable sanitary napkins for India's girls and women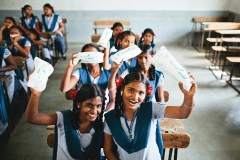 Menstruation, the most natural biological phenomenon for women, is considered unclean and impure throughout India. This is reflected in the way the entire concept of menstrual hygiene is handled. The shame, the secrecy, lack of access to clean pads or toilet facilities further adds to the challenges.
Issues such as a lack of awareness, lack of access, and un-affordability force approximately 300 million women to rely on old rags, plastic, sand, and ash to address their sanitation needs during their menstrual cycle.
The 12 % that do have access throw away approximately 433 million napkins every month generating a potential of 9,000 tonnes of sanitary waste in India. Furthermore, more than 80 % of this waste is either flushed down the toilet or ends up dumped in a landfill.
Aakar Innovations (Belapur, Mumbai, India) endeavour to break the silence around the issue of menstrual hygiene and provide knowledge and guidance to all stakeholders, especially adolescent girls.
Aakar is a hybrid social enterprise that enables women to produce and distribute affordable, high-quality, 100 % compostable sanitary napkins within their communities while simultaneously raising awareness and sensitization of menstrual hygiene management. That's why Aakar launched a 100 % compostable sanitary pad under the brand name Anandi.
Anandi is a 100% compostable sanitary napkin using biobased compostable polymer film. It uses virgin soft pine wood pulp containing more than 97 % of cellulose and hemi-cellulose. The wood pulp as used has pure cellulose materials with complete uniformity of fibers allowing it to decompose easily. Activated by an only eco-friendly ozone treatment process and using compostable bioplastic. The material used is derived from naturally available corn starch.
Bio4Pack (Germany)
PLA meat tray for fresh meat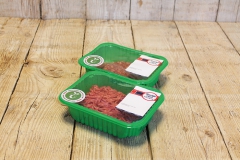 After many years of development in cooperation with several major companies in the meat and packaging industry, Bio4Pack has launched a completely new sustainable packaging for fresh meat made from renewable raw materials. In a world first, this important category, now has a full-fledged alternative to fossil-fuel based conventional packaging, and can switch to a more sustainable option.
The tray is thermoformed from sugarcane based PLA and the transparent multilayer lid is made up of a layer of cellulose based film and a layer of a PBS/ PBAT/PLA blend. Even the cellulose absorption pad is biobased and compostable.
The fresh meat packaging from Bio4Pack makes an important contribution to the acceptance and application of bioplastics and thus has a positive influence on the development of a circular economy.
The Bio4Pack meat packaging meet all requirements with regard to food safety and can easily be processed on all conventional packaging machines. The Bio4Pack meat trays are available in various colors and sizes. The packaging has an EN13432 certificate for compostability and is 4-star biobased rated.
Recycling preferred
The meat tray is manufactured from renewable raw materials (sugar cane) that ensure an important CO2 saving. Although the complete packaging is compliant to EN 13432, Bio4pack and other stakeholders in Holland are investigating the best way to recycle PLA.
PepsiCo and Danimer Scientific (USA)
Gen 2 biobased/compostable Flexible Package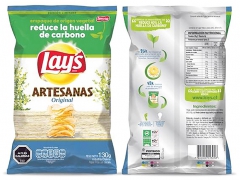 Since the launch of a 100 % PLA based compostable snack bag in 2009, PepsiCo has been working in conjunction with Danimer to develop the next generation of biobased resins that could enable industrial compostable snack bags with the right balance of sustainability, performance and cost.
The new Danimer resins are blends of biopolymers and mineral filler. PepsiCo developed the right supply chain partners and worked on optimizing the conversion of these core films to barrier films and subsequently fully laminated film structures that meet their performance specs. This next generation bag is comparable in feel, noise and performance to PepsiCo's current bags and certified to be industrially compostable by TUV Austria. Plans are to pilot the new biobased structures in Chile and India later this year. In the meantime, Danimer and PepsiCo are collaborating on a Generation 3 chip bag that is based on Danimer's PHA technology and will be fully biodegradable in home composting environments.
By introducing an industrial compostable chip bag to replace an article that is unable to be recycled, this could have a large impact in the marketplace. PepsiCo's Performance with Purpose has integrated sustainability into their business strategy and a major component of this agenda is to create packaging that is recyclable, compostable or biodegradable for all their products by end of 2025 and at the same time contributing towards the goal of 20% reduction of GHG across the value chain. A compostable chip bag offers PepsiCo a chance to be a market leader in sustain able snack food packaging and help drive competitors to deliver products that have a reduced impact on the environment.
Source
Bioplastics MAGAZINE, 2018-11-14.
Supplier
Aakar Innovations
Bio4Pack
DaniMer Scientific
European Bioplastics e.V.
Loliware
PepsiCo
Technische Universiteit Eindhoven

Share
Renewable Carbon News – Daily Newsletter
Subscribe to our daily email newsletter – the world's leading newsletter on renewable materials and chemicals