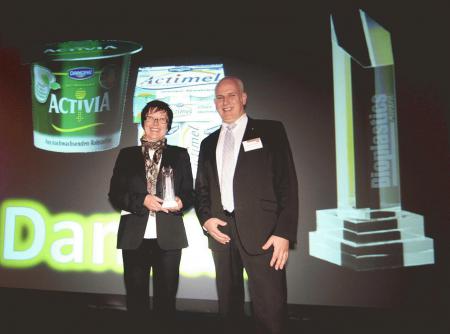 The 6th Bioplastics Award, this year for the first time awarded exclusively by the unique industry organ bioplastics MAGAZINE, went to Danone GmbH. Marianne Schweiger, Senior Packaging Development Engineer of Danone accepted the sought-after award on November 22nd during the 6th European Bioplastics Conference in Berlin.
The annual Bioplastics Award was established in 2006 by the English trade publication European Plastics News. It recognises the special role played by a brand owner or single individual and acknowledges the contribution made by companies, products or services to the further development of bioplastics by way of specific innovation or imaginative marketing concepts. This year the 5-man panel of judges, from academia, the press and trade associations in America, Europe and Asia, selected Danone GmbH in Haar near Munich from a long list of first class ideas and innovations. The judges are of the view that Danone, as an international brand owner, made a significant contribution to moving bioplastics from a niche packaging product to a mass market product with the introduction of Activia and Actimel in bioplastic packaging (PLA and Green HDPE). This means that today more than half of the Danone products in the German market are packaged in bioplastics.
It is one of Danone's objectives to make a serious contribution to the reduction of greenhouse gases. One of the various measures which they have taken is the use of bio-based or partially bio-based packaging. And here Danone are not concentrating on specific bioplastics but are choosing the most appropriate bioplastic for the job – be it up to 100% bio-based polyethylene, partially bio-based PET or 100% bio-based PLA. "This action by Danone is pointing the way for marketers of branded products in Europe and worldwide", commented Dr. Michael Thielen, spokesman for the judges, and publisher of bioplastics MAGAZINE.
"We are very pleased about the award. A highly valued acknowledgement like this is wonderful confirmation of our achievement over years of research, and of our commitment in the field of bioplastics. We must get away from our dependence on petroleum and focus on packaging materials that come from renewable resources. We therefore hope that the award will motivate other companies to select bioplastics. It is only in this way that we will be able to establish a full recycling system, for example for PLA, and make full use of the material's potential", commented Dr. Andreas Knaut, Director Corporate Communications, Health and Sustainability.

The plastic material from which the Actimel bottles are made is so-called "Green HDPE". This polyethylene is chemically almost identical to conventional PE, yet is produced from sugar-cane based bioethanol, i.e it is produced totally from renewable resources and not from petroleum products. PLA, the material used for the new Activia yoghurt pots, is also made completely from renewable raw materials. The PLA (polylactic acid) is obtained from starch by fermentation and is also biodegradable. However with PLA Danone is not promoting the composting aspect but is encouraging other packaging manufacturers to also use PLA so that significantly large quantities come onto the market and make a PLA-to-PLA recycling plant an ecologically sound and economical proposition.
Source
Bioplastics MAGAZINE, 2011-11-23.
Supplier
bioplastics MAGAZINE (Zeitschrift)
Danone GmbH
European Plastics News

Share