"Roquette is taking a holistic approach of bioeconomy by integrating various applications of plant-based resources and in particular those serving Nutrition and Health markets." Christophe Rupp-Dahlem, Head of Global Public Affairs at Roquette, talks to Il Bioeconomista. In this exclusive interview he tells us what are Roquette's main achievements in the bioeconomy and what the next steps.
Interview by Mario Bonaccorso
Effective 1 April 2019, the joint venture between Royal DSM and Roquette, Reverdia, will be dissolved and the partners will transfer the rights and obligations related to Reverdia's Biosuccinium® plant in Cassano, Italy to Roquette. What are your next step?
After the success of the collaboration with DSM through the joint venture Reverdia®, we will integrate the Biosuccinium® product line within our global business organisation. Roquette will operate the plant and continue serving customers of Biosuccinium® under a non-exclusive license from DSM.
Customer service, order processing, marketing and sales will be integrated into Roquette's existing Business to ensure a smooth transition. Biosuccinium® is a fantastic versatile plant-based product notably for industrial and cosmetic markets.
What is exactly the bioeconomy according to Roquette?
Roquette is taking a holistic approach of bioeconomy by integrating various applications of plant-based resources and in particular those serving Nutrition and Health markets. This bioeconomy approach integrates Ingredients, Sustainable Biomass and Innovation to address societal challenges such as ensuring a sustainable agriculture or providing consumers with healthy and safe food.
What do you think are Roquette's main achievements in the bioeconomy?
Roquette has developed many new innovative solutions in the last years and decades. Two emblematic illustrations spring to mind:
Nutralys® Pea protein as a consumer-friendly source of sustainable plant-based protein for food (savoury, baking) and specialized nutrition (sport, seniors, etc). It offers many advantages to farmers, food producers and consumers. Pea production is environmentally friendly, and it is also a great source of protein both qualitatively and quantitatively. It offers nutritional and functional properties with a pleasant taste. The pea proteins market is a strategic pillar that will strengthen Roquette's leadership by offering sustainable nutritional and functional solutions with a high added value.
Polysorb® Isosorbide as a co-monomer for new performance materials like new polyesters for food packaging and new engineering plastics for automotive.
From your point of view, is the future of the chemical industry bio-based?
The consumers are increasingly demanding more and more natural based solutions (e.g. clean label and healthy products in food, sustainable solutions or reduction of environmental impact). All industries (food, chemical, others) are responding to this trend.
Bioeconomy and circular economy are two increasingly prevalent economic paradigms, but that public opinion still does not understand. How can stakeholders and authorities better communicate the benefits of bio-based products compared to those of fossil origin?
The Bioeconomy is circular by nature. Companies, Authorities, and Citizens at large need to engage in an open and informed dialogue to ensure the lasting benefits of the bioeconomy as part of a circular economy. The inclusion of leading representatives or experts of the bioeconomy would be also welcome in such dialogue.
In enim justo, rhoncus ut, imperdiet a, venenatis vitae, justo. Nullam dictum felis eu pede mollis pretium. Integer tincidunt. Cras dapibus. Vivamus elementum semper nisi. Aenean vulputate eleifend tellus. Aenean leo ligula, porttitor eu, consequat vitae, eleifend ac, enim. Aliquam lorem ante, dapibus in, viverra quis, feugiat a, tellus. Phasellus viverra nulla ut metus varius laoreet.
Powered by: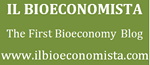 Source
Supplier
Share