The tiny or­gan­isms cling to oil droplets and per­form a great feat: As a single or­gan­ism, they may pro­duce meth­ane from oil by a pro­cess called al­kane dis­pro­por­tion­a­tion. Pre­vi­ously this was only known from sym­bi­oses between bac­teria and ar­chaea. Sci­ent­ists from the Max Planck In­sti­tute for Mar­ine Mi­cro­bi­o­logy and MARUM have now found cells of this mi­crobe called  Meth­an­ol­i­paria in oil reser­voirs world­wide.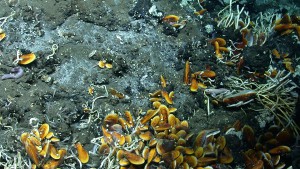 Crude oil and gas nat­ur­ally es­cape from the seabed in many places known as "seeps". There, these hy­dro­car­bons move up from source rocks through frac­tures and sed­i­ments to­wards the sur­face, where they leak out of the ground and sus­tain a di­versity of densely pop­u­lated hab­it­ats in the dark ocean. A large part of the hy­dro­car­bons, primar­ily al­kanes, is already de­graded be­fore it reaches the sed­i­ment sur­face. Even deep down in the sed­i­ment, where no oxy­gen ex­ists, it provides an im­port­ant en­ergy source for sub­sur­face mi­croor­gan­isms, amongst them some of the so-called ar­chaea.
Now a study led by sci­ent­ists from the Max Planck In­sti­tute for Mar­ine Mi­cro­bi­o­logy in Bre­men, Ger­many, and MARUM – Cen­ter for Mar­ine En­vir­on­mental Sci­ences, provides en­vir­on­mental in­form­a­tion, gen­omes and first im­ages of a mi­crobe that has the po­ten­tial to trans­form long-chain hy­dro­car­bons to meth­ane. Their res­ults are pub­lished in the journal
Source
MARUM, press release, 2019-08-20.
Supplier
Alfred-Wegener-Institut Helmholtz-Zentrum für Polar- und Meeresforschung, Bremerhaven
MARUM – Zen­trum für Ma­ri­ne Um­welt­wis­sen­schaf­ten
Max-Planck-Institut für Marine Mikrobiologie
Universität Bremen
Wageningen University

Share