International commercial airliner manufacturer Airbus and the South African Council for Scientific and Industrial Research (CSIR) have formed a partnership to research the application of natural fibre-based materials on new-generation eco-friendly aircraft, the manufacturer announced last week.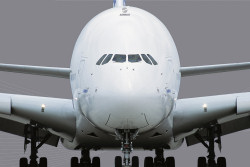 In particular, the research would look into the potential application of natural fibres, such as hemp, flax and kenaf, in the fabrication of aircraft interior components, such as sidewall and ceiling panels, insulation blankets and other less load-bearing parts.
Airbus said that, like other aircraft manufacturers, it currently relied upon a variety of improved composites, for example, glass fiber and carbon fiber-reinforced plastics for its aircraft interior, which were complicated materials for recycling. The CSIR's Materials Science and Manufacturing unit's Fibres and Textiles group in Port Elizabeth, in the Eastern Cape, would lead the South African-based research.
Further, the Nelson Mandela Metropolitan University's science faculty and the University of Cape Town's Centre for Research in Computational and Applied Mechanics would also participate in the research, while the Department of Science and Technology was contributing grant funding through its Advanced Manufacturing Technology Strategy programme.
"One of our primary objectives is to support the continual drive to address the parallel challenges of reducing aircraft weight, improving fuel efficiency and minimising our products' impact on climate change. This includes our aim of developing a fully recyclable aircraft cabin interior. In our quest, we are searching for fire-retardant, strong, flexible, biodegradable and lightweight cabin materials, which will help us meet these challenges head on," explained Airbus Research & Technology (R&T) senior vice-president Axel Krein.
Airbus added that crops used in the processing of natural fibres, such as kenaf and sisal material, were farmed widely in South Africa, especially in the Eastern Cape. "These are attractive to us because they are low density, biodegradable, recyclable, carbon-dioxide neutral, non-abrasive, low-cost and widely available products, although they also have some properties that restrict their application in aircraft," added Krein.
The project would also cover research into the composition and use of bio-resins and nanotechnologies to identify how these can be combined with natural fibres in order to improve their resistance to fire and reduce the smoke levels and toxicity that they generate when set alight.
Meanwhile, CSIR Material Science and Manufacturing chief researcher professor Rajesh Anandjiwala commented that the potential of these fibres had already been proven in the automotive sector, but this was the first time the CSIR was looking at an aeronautical application for these fibres.
"We are hoping that our scientific research will ultimately lead to the increased industrial use of natural fibres, providing vital socio-economic benefits both for the Eastern Cape's large subsistence farming community and for organized agriculture," remarked Anandjiwala.
This was the latest in a series of R&T projects that Airbus had committed to undertake with South African partners under its agreements with the departments of Science and Technology and Trade and Industry. Other activities included computational fluid dynamics studies to help define a future-generation airliner and a postgraduate bursary programme.
Source
Energeeringnews, 2008-07-11.
Supplier
Nelson Mandela Metropolitan University (NMMU)
South African Council for Scientific and Industrial Research (CSIR)
University of Cape-Town

Share