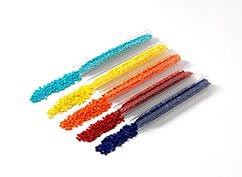 In bioplastics, pigmentation is an increasingly important aspect. Bioplastics today are pigmented almost exclusively using color masterbatches formulated with polymer carrier materials and the appropriate pigments. AF-Eco color masterbatches are based on biodegradable carrier polymers. The product line has been expanded to include a broad range of biodegradable masterbatch carriers. Now there is a carrier material that's just right for every application.
"We aim to rise to the challenge of growing complexity in biobased plastics applications, and this is how we plan to succeed. It will allow us to minimise interactions with other polymer components in a compound", said Dirk Schöning, Sales Director at AF-COLOR.
"Now there are virtually no limits to our customers' color requirements for biomasterbatches", addedDr Inno Gaul, R & D Director at AF‑COLOR. According to the manufacturer, just about every desired color can be achieved ‒ even pearlescent effect colors.
The biomasterbatches are marketed exclusively by BIO-FED under the brand name AF-Eco. Like AF-COLOR, BIO-FED is a branch of AKRO-PLASTIC GmbH. The company specialises in marketing biobased and biodegradable plastics under the brand name M∙VERA.
Source
Bioplastics MAGAZINE, 2017-05-03.
Supplier
Share