This year the prestigious annual Global Bioplastics Award was given to Aakar Innovations (Belapur, Mumbai, India) for their compostable sanitary napkins.
Menstruation, the most natural biological phenomenon for women, is considered dirty and impure throughout India. Issues such as lack of awareness, lack of access, and un-affordability force approximately 300 million women to rely on old rags, plastic, sand, and ash to address their sanitation needs during their menstrual cycle.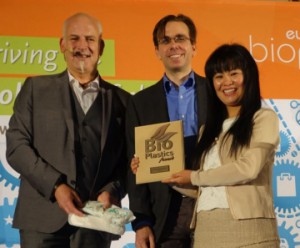 Aakar Innovations enables women to produce and distribute affordable, high-quality, 100% compostable sanitary napkins within their communities while simultaneously raising awareness and sensitization of menstrual hygiene management. That's why Aakar launched a 100% compostable sanitary pad under the brand name Anandi.
The judges were impressed with the holistic concept, addressing the social, economic and environmental elements at the same time, as Michael Thielen, publisher of bioplastics MAGAZINE pointed out during the award ceremony. A perfect example of what sustainability is all about! It is tangible, helping millions of women in rural India, and shows how bioplastics can advance the cause of environmental and social justice in a responsible manner. All bioplastic components are certified compostable as per EN 13432 or ASTM D6400. A certification for soil degradability is being awaited and will complete a truly remarkable story of empowerment, social justice and environmental responsibility.
The second prize went to Bio4Pack for their PLA meat tray for fresh meat and the third prize went to Danimer and PepsiCo for their Gen 2 biobased/compostable Flexible Package.
Both developments seem simple at first sight, but they aren't. And both can and will pose a significant signal to the packaging market. The PLA tray saw some huge attention in Germany including many reports on television. Big retail chains are interested. And if more such packaging gets introduced, the gap to achieving an significant amount of PLA for economic recycling is getting smaller.
The second generation chips bag saw a successful market introduction in Chile. Danimer and PepsiCo are looking into PHA with its interesting potentials.
The trophy was again made entirely from bioplastics. It was 3D-printed from different PLA/PHA based compounds filled with wood and different metal powders fillers.
The prize was awarded by bioplastics MAGAZINE to the winning companies on December 4th, 2018 during the 13th European Bioplastics Conference in Berlin, Germany.
Source
Bioplastics MAGAZINE, 2018-12-04.
Supplier
Aakar Innovations
Bio4Pack
bioplastics MAGAZINE (Zeitschrift)
DaniMer Scientific
European Bioplastics e.V.
PepsiCo

Share
Renewable Carbon News – Daily Newsletter
Subscribe to our daily email newsletter – the world's leading newsletter on renewable materials and chemicals