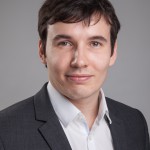 Christopher vom Berg is part of the nova-Institute since October 2017 and works for both the economy & policy and the sustainability department. With his interdisciplinary background in biology, environmental sciences and sustainability, he works on life cycle & sustainability assessments of bio-based products & materials and investigates policies & regulations that impact the bioeconomy with a special focus on CO2-based products.
Tasks at nova-Institute
At the nova-Institute, Christopher is involved with several European and national projects on the bio-based economy. Internally, he leads the BBI-JU project RoadToBio, which aims to develop a roadmap in order to increase the bio-based raw material share in the European organic chemistry in 2030. Specific tasks are the analysis of regulatory barriers for bio-based materials and public perception of the bioeconomy in order to shape the final roadmap, as well as supporting the identification of bio-based chemicals might be a potential "sweet spot" for the organic chemistry.
Christopher also works on several sustainability and life cycle assessments, supporting the ZeroCarb project and a project with a German car manufacturer. Additionally, he leads a SuperBio project assessing the environmental impacts of a novel material design.
A special focus in his work is related to the CO2-based economy: Christopher supports a project from the German Environment Agency that investigates the possibility to include Carbon Capture and Utilization (CCU) technologies in the EU emissions trading system, examines existing methodology for CO2 and CCU in Life Cycle Assessment and will lead the sustainability assessment packages of the newly started European BioReCO2ver project, where CO2 will be turned into chemicals using bioconversion.
Background and expertise
Christopher completed a Bachelor in biology at the university of Cologne, with a focus on biotechnology, and a Master/Diplom-Ingenieur in "Natural Resources Management and Ecological Engineering", a combined degree offered by the University of Natural Resources and Life Sciences in Vienna, Austria and the Lincoln University in Canterbury, New Zealand. Here, he put emphasis on sustainability in a globalized economy and finished with a thesis on urban water management.
After his studies, Christopher interned at the "Deutsche Gesellschaft für Internationale Zusammenarbeit" (GIZ) in Eschborn, where he worked on several environmental topics, and at the European Knowledge and Innovation Community on climate change, the Climate-KIC in Zurich, to broaden his perspective on sustainability and life cycle thinking.
Before joining nova-Institute, Christopher worked in and travelled through Canada and Eastern USA. When he is not busy with the bio-based economy, Christopher likes reading, travelling and introducing his colleagues to local traditions.
Contact
Christopher vom Berg
Phone: +49 (0)2233 481461
Email: Christopher.vomberg@nova-institut.de
Source
nova-Institut GmbH, 2018-06-04.
Share